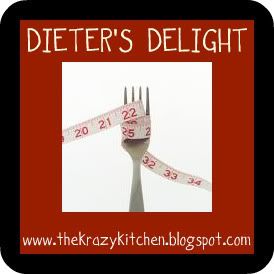 Quick Thousand Island Dressing
This is really yummy. More like McD's special sauce & less like thick, gloopy bottled thousand island.
I also like it because there's not high fructose corn syrup or any other crud.
*Bonus~each tablespoon is only 12 calories & I usually have most of these things on hand.
1/3 cup low-fat mayonaise
2 tablespoons ketchup
2 tablespoons fresh lemon juice (I used the kind in the bottle & it was fine)
2 tablespoons minced red bell pepper (tip, I chop & freeze these to use in recipes when I need them)
1 tablespoon minced onion1 tablespoon minced fresh parsley leaves (I did not have these, my dressing way yummy without them)
1 tablespoon sweet pickle relisha pinch of cayenne (or drop of Tabasco)
1/4 cup water.
Blend all ingredients until somewhat smooth in a blender or food processor, I used my Magic Bullet & it rocked.
Add up to 2 tablespoons of additional water if needed to thin dressing to desired consistency. Keeps in the fridge about 10 days.
Come on & share your great diet recipe with us!