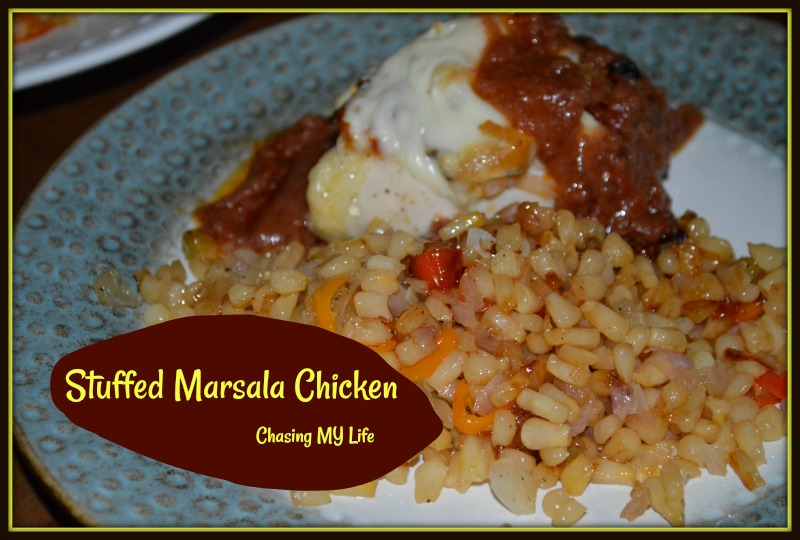 STUFFED MARSALA CHICKEN
4 chicken breasts
6 slices of mozzarella (about 1/4 inch thick)
16 sun-dried tomatoes (I use the ones packed in olive oil and Italian herbs)*
1/2 cup baby spinach (optional)
2 tablespoons avocado oil
8 mushrooms, sliced thin
1 large shallot, sliced thin
3 cloves garlic, minced
1/4 cup sweet Marsala wine
1/4 cup chicken broth
1/4 cup heavy cream
Salt & pepper to taste
2 green onions, sliced thin (optional)
Heat oil or butter in a skillet over medium high heat.
Add mushrooms and shallots, sweating until caramelized.
Cut a horizontal pocket into each chicken breast being careful not to go all the way through.
Stuff each breast with one slice of mozzarella, 4 sun dried tomatoes and a spoonful of mushrooms and shallots.
Secure with baking bands or toothpicks.
Heat 1 tablespoon of avocado oil in the same large skillet.
Brown chicken breasts on both sides.
Move to casserole dish and bake at 350° for 15-20 minutes depending on size of your chicken breasts.
Meanwhile using the same skillet heat remaining tablespoon avocado oil over low heat.
Add garlic and cook until fragrant; less than 1 minute.
Add sweet Marsala wine and reduce by half.
Add chicken broth and cook on high for 1 minute.
Reduce heat to low.
Add cream and simmer until slightly thickened approximately 5-7 minutes; whisking frequently.
Salt & pepper to taste.
Top chicken breast with 1/2 mozzarella slice and allow to melt.
Spoon sauce over warm chicken.
Top with optional green onions.
Linking up to FULL Plate Thursday.
Save