I saw this on Damaris Phillip's show, Southern at Heart and fell in love almost immediately! I made just a few alterations to fit with what I had on hand, but we love it and have had it several times, several ways since.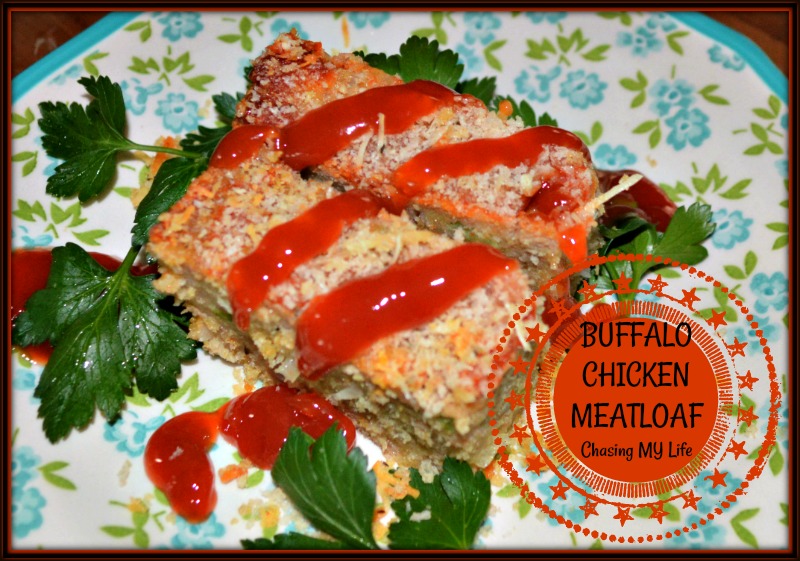 BUFFALO CHICKEN MEATLOAF
TOTAL TIME: 1 hr 25 min          COOK TIME: 1 hour          PREP TIME: 25 min
SAUCE
1/3 cup ketchup**
1 tablespoon hot sauce
Whisk together the ketchup and hot sauce in a small bowl and set aside.
MEATLOAF
3 tablespoons unsalted butter
1 cup diced celery (2-3 stalks) + leaves reserved for garnish
1 cup small diced onion or shallot
3 tablespoons Frank's original hot sauce
1 1/2 pounds ground chicken
1 cup blue cheese crumbles (GORGONZOLA works well too as does sharp cheddar)
1 1/2 teaspoons kosher salt
2 teaspoons FRESH coarse ground black pepper
2 large eggs
1 1/2 cups Panko breadcrumbs
1/3 cup grated Parmesan
Preheat the oven to 350°.
Grease a 9 X 5 inch loaf pan with cooking spray and set aside.
Melt the butter in a medium skillet over medium-high heat and saute the celery and onion until softened, 3- 5 minutes.
Transfer the mixture, plus the drippings, to a large bowl.
Add the hot sauce to the bowl and stir to combine.
Add the chicken, blue cheese, salt, pepper, eggs and 1 1/2 cups of the panko and mix until well combined.
Press the mixture into the prepared loaf pan, pressing more in the center of the loaf to create a divot. This will allow the meatloaf to bake evenly and not create a mound after it is baked.
Spread half of the sauce over the top of the meatloaf.
Mix the Parmesan with the Panko and sprinkle the mixture on top of the sauce.
Bake until the center is set and the top is golden brown, 45 minutes to an hour.
Let rest 10-15 minutes before cutting to serve.
Garnish the meatloaf slices with remaining heated sauce and chopped celery leaves.
LINKING TO: CELEBRATE YOUR STORY, CRAFTASTIC MONDAY, DISHING IT & DIGGING IT, NIFTY THRIFTY SUNDAY, SHOW & TELL, SUNDAYS AT HOME, SUNDAY'S BEST, THAT DIY PARTY, JCOOKING & CRAFTING WITH J&J, INPIRATION MONDAY , INSPIRE ME MONDAY , MADE BY YOU MONDAY, MAKE IT PRETTY MONDAY, MELT IN YOUR MOUTH MONDAY, MERRY MONDAY, MIX IT UP MONDAY, MOTIVATE ME MONDAY, PROJECT INSPIRED, SHOW AND SHARE, TUTORIALS & TIP , DIY TUESDAYS, LOU LOU GIRLS FABULOUS PARTY, THE SCOOP, TREASURE BOX TUESDAY, TUESDAYS AT OUR HOME, TUESDAYS WITH A TWIST, CREATIVE INSPIRATIONS, SHARE YOUR CUP , WINTER BLUES WEDNESDAY, WONDERFUL WEDNESDAY, SHOW ME WEDNESDAYS, WOW US WEDNESDAY , CREATIVE CIRCLE, DAGMAR'S PARTY, HOME SWEET HOME, FAVORITE THINGS, GRACE AT HOME, HOME MATTERS, PIN JUNKIE PIN PARTY, TALK OF THE TOWN, BLOGGER'S PIT STOP, HANDMADE HANGOUT, PRETTY PINTASTIC PARTY, SHARE IT ONE MORE TIME, SWAY SHAREFEST, WHAT TO DO WEEKENDS PARTY, BOUQUET OF TALENT PARTY, INSPIRE-BE-INSPIRED, RAE GUN BLOCK PARTY, I'M LOVIN' IT, THIS IS HOW WE ROLL THURSDAY, FULL PLATE THURSDAY, FOODIE FRIDAY, SOUPER SUNDAY, BETH FISH READS, SATURDAY SPARKS, AMAZE ME MONDAY, INSPIRE ME TUESDAY, SHARE YOUR STYLE, OVER THE MOON
**NOTE: Use jalapeno ketchup if you want a bit more spice.