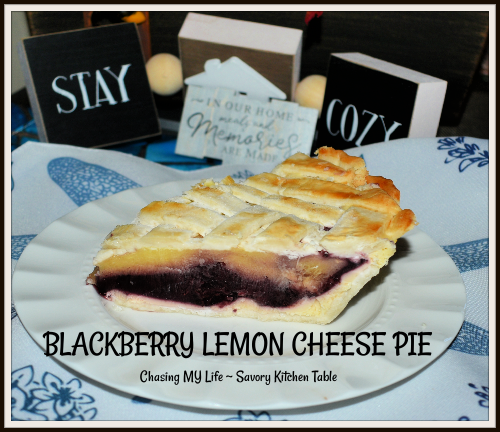 BLACKBERRY LEMON CURD CREAM CHEESE PIE
8 ounces cream cheese, softened at room temperature
1/4 cup sugar
1/8 teaspoon sea salt
1 LARGE egg
Juice of 1 lemon (1 1/2 tablespoon)
1 can COMSTOCK blackberry pie filling
1 cup lemon curd (jarred or FRESH made)
Prepared pie crust
whipped cream, for topping (optional)
Preheat oven to 400°.

Beat cream cheese until fluffy.

Add sugar, salt, lemon juice and egg, mixing until smooth and creamy.

Pour into prepared pie crust.

Bake 20 minutes.

Spread blackberry filling evenly over cheese mixture.

Bake another 20 minutes.

Spread with lemon curd.

Bake 5 minutes more.

Cool COMPLETELY and/or chill before serving.

Add a dollop of whipped cream and serve.