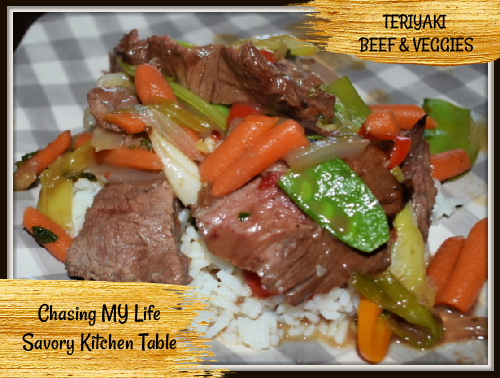 TERIYAKI BEEF & VEGGIES
1 1/2 pounds thin flank or flat iron steak
1/2 cup teriyaki sauce
1/2 cup water
2 tablespoon rice wine vinegar
2 teaspoons cornstarch
2 tablespoons avocado oil
FRESH ground sea salt and black pepper
2 bunches green onions, sliced on bias
3 carrots, peeled and sliced on bias
2 cups snow peas, trimmed of strings and ends
2-3 mini peppers, seeded and cut into rings
3-4 cloves garlic, minced
1/4-1/3 cup chopped cilantro, optional
Whisk together teriyaki sauce, water, vinegar and cornstarch.
Pat steak dry and GENEROUSLY season with FRESH ground salt and pepper.
Heat 1 tablespoon of the oil in skillet.
Add steak and cook 2-3 minutes per side until 125°.
Transfer to cutting board and tent with foil.
Add remaining oil to skillet.
Add carrots to hot oil for 2 minutes.
Add onions, snow peas and pepper rings, stirring to sear.
Add garlic, stirring until fragrant.
Transfer the vegetables to a platter and keep warm.
Add ALL the juices into the skillet along with the teriyaki mixture simmering 2-3 minutes until thickened.
Slice steak on bias and add steak to the sauce, turning to coat.
Add steak and sauce to vegetables on the platter.
Serve over rice.