Every now and then we like to spice up a red sauce and just eat plain pasta with it. No veggies. No proteins. Just a good handmade pasta and full bodied spicy sauce! YUMMY! 😀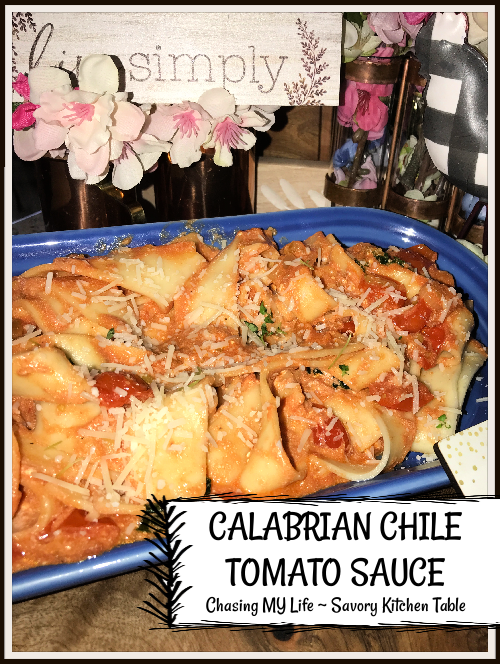 CALABRIAN CHILE TOMATO SAUCE
1 tablespoon avocado oil
2 tablespoons tomato paste
2 cloves garlic, minced
1 shallot, FINELY diced
2 cups grape tomatoes, halved
1 1/2 teaspoons Calabrian chile paste
1/4 cup water
FRESH ground sea salt and black pepper
2 tablespoons Marscarpone cheese
1/4 cup Parmesan cheese
Prepared pasta of choice, reserving 1/2 cup of pasta water
Heat oil in skillet over medium heat.

Add garlic and shallots, sauteing 2 minutes until softened.

Add tomato paste and chile, stirring to blend well for 2 minutes.

Add tomatoes and water.

Season to taste with FRESH ground sea salt and black pepper and cook 2-3 minutes until liquid is reduced by half.

Fold in prepared pasta and add as much of the pasta water as necessary to reach your desired consistency.

Turn off heat and add Marscarpone cheese, blending well.

Adjust seasoning to taste.

Top with grated Parmesan cheese.