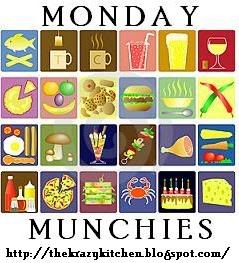 Today's Recipe: Faux Fried Finger Foods
I'm moving in two weeks, so I've been trying to use up all the food I have around so I don't have to throw any of it out. I've come up with a lot of yummy new meals that I'll try to share when I can, but I still have a lot of extra stuff lying around, like a freezer full of tasty veggies – I can't let them go to waste!

Then a couple days ago, I remembered a strangely delicious appetizer I once had at a restaurant: green beans, battered and fried. I confess, I'm a fried food lover. Sometimes when I'm eating out, I'll just order the little basket with all the fried snacks – onion rings, chicken strips, jalapeno poppers. I decided to challenge myself to make a healthier fried finger food platter, using only what I have around the house.

Here's the recipe – you can use other veggies too, but I'm not sure how you'd have to adjust the cooking time. I've seen everything from carrots to zucchini used in fried veggie recipes, and this method would probably work for most frozen veggies. You'd have to cook fresh ones longer.

Ingredients:
1/3 cup each frozen broccoli and green beans
5 canned jalapeno rings
2 tbsp cream cheese
10 crushed crackers or about 1/4 cup bread crumbs
1 egg, beaten

First, I let the frozen veggies defrost for about 15 minutes. I have a huge box of roasted veggie flavored Ritz crackers, so I put 10 in a baggie and crushed them to make breadcrumbs. If you use plain breadcrumbs, you might want to add salt, but these crackers were plenty salty. I did add some sesame seeds and a dash of oregano, but that's totally optional. The seeds did add a lot of flavor, though.

I put the beaten egg in a small dish. You won't need the whole egg for this recipe, so you might want to put half of it aside for another recipe. I dipped the veggies in the egg, then tossed them in the bag of breadcrumbs and shook it until they were coated. You can use all the egg now, because you won't need it for the rest of the recipe. I took them from the bag and placed them on a baking sheet.

Next, I took out the tub of cream cheese. If you have a block of the stuff instead, this'll be easier for you – chop off about two tablespoons' worth and slice it into five cubes, then push a jalapeno slice into each with a fork. If you have a tub of cream cheese like I do, take a heaping teaspoon and push the jalapeno into the middle, then roll it into a ball. Once your balls or blocks of cream cheese are stuffed, roll them in the remaining breadcrumbs and place them in the pan with the veggies. It's tasty if you have some cheddar to mix in with the cream cheese, but it's delicious either way.

Cook it all at 350 degrees for about 10 minutes. Watch carefully to make sure the breadcrumbs don't burn, but try to bake for a minimum of eight minutes to be sure that the egg is fully cooked and safe to eat.

Serve with a tangy dipping sauce like one that uses ranch dressing or sour cream. If you use sesame seeds, a little soy sauce tastes great with the veggies. This recipe makes enough for two to three people to snack on, but don't feel bad if you eat it all yourself!
—> Budget-friendly Tips

-Don't go out and buy extra ingredients. Use whatever you've got in the house and be creative!
-Frozen veggies are less expensive than fresh, but just as healthy and tasty. Stock up when you can, then use them in fun recipes like this so they don't get boring!
—> Health-friendly Tips

-Light cream cheese and egg white or egg substitute should work fine in this recipe.
-Have you ever been to hungrygirl.com? There you'll find lots of healthier "fried" foods like this. She often uses healthy cereals in place of bread crumbs.
—> Kid-friendly Tips

-Kids will love helping to prepare this dish. Let them smash the breadcrumbs and mush around the cream cheese.
-Serve this as a healthy addition to your kids' favorite fried foods. For instance, if they usually eat four fried mozzarella sticks as a snack, serve them two instead as an addition to this healthier recipe. Or, as an alternative, roll penny-sized slices of cream cheese in breadcrumbs and bake along with the rest of it.