Duff says that the King deserves a cookie. And you know what, he's absolutely right, and I for one am so glad Duff created a cookie for him! Elvis was known for some odd eating combos and this cookie showcases them all – bananas, peanut butter, garlic, bacon, pretzels… YEP I said garlic. I always make a recipe as written the first time and then adjust from there. I did include the garlic, but I WILL omit it next time. Hubby couldn't taste it, but I could.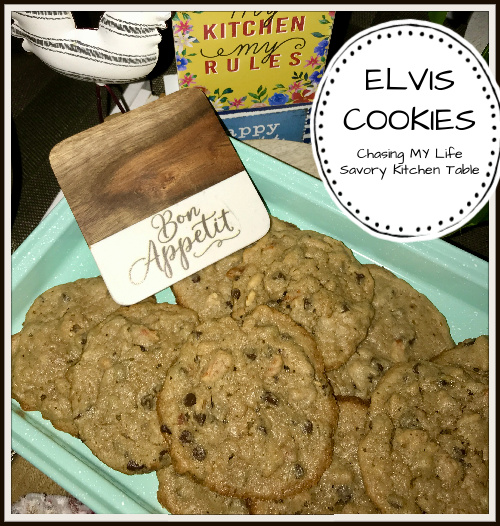 ELVIS COOKIES ala DUFF GOLDMAN yields 30 cookies
3 cups sugar
1 cup butter, softened
1 cup peanut butter, smooth or crunchy
2 tablespoons molasses
1 tablespoon PURE vanilla extract
BIG pinch of baking powder*
1 garlic clove, minced **(optional)
2 teaspoons kosher salt
3 VERY ripe bananas
2 1/2 cups all purpose flour
1 1/4 cups chocolate chips
3/4 cup pretzel crumbs (about 5 ounces hard pretzels smashed)
10 bacon strips, cooked crisp and chopped FINE
Preheat oven to 350°.

Spray baking sheet with non-stick cooking spray.

In a large bowl combine the butter, peanut butter, molasses, sugar, baking powder, garlic and salt, mixing until all one color.

Add the bananas, mixing until all the same consistency.

Add flour and gently mix until incorporated with no lumps.

Fold in the chocolate chips, pretzel pieces and bacon.

This is my little addition – chill the entire batch of dough for 1 hour before using.

Place large walnut sized spoon fulls onto prepared baking sheets 2 inches apart.

Chill baking sheets 10 minutes.

Bake for 12 minutes or until golden on the outside and gooey in the middle.

Cool on wire rack.
*NOTE: Duff qualifies this by saying yes, he said a BIG pinch of baking powder and to get over it 😀
**NOTE: Duff claims that the garlic isn't weird and that there is actually a long standing tradition of putting garlic in chocolate chip cookies. I have to admit t does sound weird, but in reality no weirder than the bacon 😀 But like I said hubby couldn't taste it, but I could so I will omit it next time and leave it up to you.