This is one of those soups that everyone of a certain age has had! During a simpler, more frugal era this type of soup was a staple on the dinner table, especially in the fall/winter months.
Ground beef was the lesser expensive meat choice and the soup was a great way to use up veggies at the end of the week. Once the flavors meld together no one cares that they were the former beauty queens that were now the  less than pretty wilting ones from the crisper bin.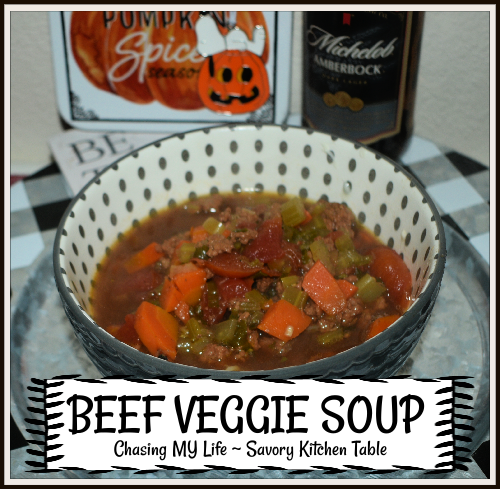 BEEF VEGGIE SOUP serves 6
1 pound ground beef
1 LARGE Vidalia onion, chopped
3 stalks celery, diced
1 LARGE carrot, diced
1 can Green Giant white shoepeg corn
2 cups frozen green beans
15 ounce can stewed tomatoes, chopped
3-4 cloves garlic, minced
2 tablespoons FRESH chopped Basil
2 tablespoons FRESH chopped Parsley
FRESH ground sea salt and pepper, to taste
1 cup DRY red wine
8 cups beef bone broth**
1 cup diced potatoes, optional
1 cup prepared pasta, optional
1/2 cup raw rice, optional
1/2 pound mushrooms, sliced, optional
Grated cheese, as a topping
Brown ground beef over medium high heat in a large soup pot.

When beef is just about browned, drain off most fat and add onions, carrots and celery, sweating for 4-6 minutes.

Add garlic, garlic salt and onion salt, stirring to blend.
Add chopped stewed tomatoes with their juice, Basil, Parsley and FRESH ground sea salt and black pepper. Simmer 3-4 minutes.
Add broth, wine and potatoes or rice if using.
Simmer for 1 hour.
Add corn, green beans and mushrooms if using, simmering for 15-20 minutes more.
If using pasta add prepared pasta and simmer 5 minutes until heated through.

Serve with Honey Beer Bread.
**I made this broth with beef bone marrow bones and end of the season tomatoes.