I HAD to replicate this amazing recipe we had at the McKenzie Brewing Company formerly known as Steelhead Brewing Company while on a recent trip. These Halibut Enchiladas with their Salsa Verde on a creamy, tender bed of pinto beans were literally orgasmic.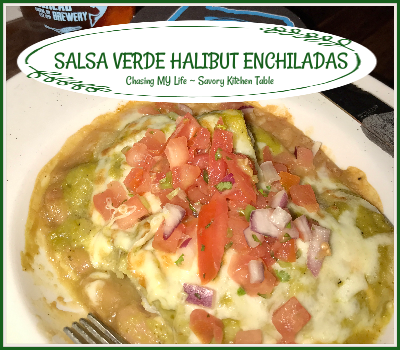 SALSA VERDE HALIBUT ENCHILADAS serves 4 (8 enchiladas)
Prep Time: 15 minutes Cook Time: 20 minutes Total Time: 35 minutes
1/2 teaspoon garlic salt
1/2 teaspoon lemon pepper seasoning
1/2 teaspoon chipotle chili powder
1/2 teaspoon ground cumin
4 – 4 to 6 ounce Alaska Halibut fillets
1 tablespoon avocado oil
1 LARGE can (18 ounce) green salsa sauce
1 SMALL can diced green chiles (mild, medium or hot, to taste)
8 – 8-inch corn or flour tortillas
8 ounces Monterey Jack cheese
1 cup chopped tomatoes
1/2 cup chopped cilantro
2 cans (15 ounces each) seasoned pinto beans, drained WELL
Blend garlic salt, lemon pepper, chipotle chili pepper and cumin together.

Sprinkle on all sides of halibut to season.

Heat oil over medium heat in large skillet.

Sear halibut JUST until fish is opaque throughout.

Cool slightly and then into chunks when cool enough to handle.

Preheat oven to 400°.

Pour and spread 3/4 cup of the salsa verde sauce on bottom of a 9×13-inch pan.

Heat a large saucepan to medium-high, adding remaining green sauce and chiles.

Cook 2-3 minutes, stirring occasionally until warmed through.

Spread pinto beans evenly in the bottom of your baking dish.

One by one, dip the tortillas in the sauce, divide halibut chunks evenly among tortillas, sprinkle with 1 tablespoon cheese; roll up and place enchiladas snugly side by side in the baking dish on top of the pinto beans.

Pour the remaining sauce over the enchiladas and beans.

Sprinkle with remaining cheese.

Top with chopped tomatoes.

Bake 15 to 20 minutes, until sauce is bubbling and enchiladas are heated through.

Sprinkle on cilantro when serving.