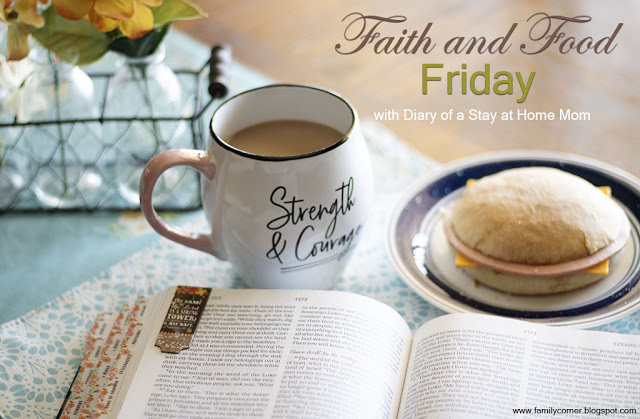 I'm still featuring my Mary & Martha GRACE meal prayer box on Faith and Food Friday, hosted by Sandra at Diary of a Stay at Home Mom.

THIS WEEK'S PRAYER: Dear God, Thank you for dinner time when we pause and reflect on our day. Teach usto love You more, follow You more closely, and be a reflection of You to others. Thank you for our food and all the ways You bless us. Amen.

MEXICAN STREET CORN LOADED TOTS
PICKLED RED ONIONS
1 cup apple cider vinegar
2 tablespoons sugar
1 tablespoon kosher salt
1 large red onion, sliced thinly
Heat the vinegar, sugar, salt and 1 cup water in a small saucepan, stirring until the sugar and salt dissolve.

Pour over the onions in a small jar.

Let cool completely, then refrigerate.
CHILI LIME CREAM
2/3 cup sour cream
1/3 cup mayonnaise 
1 teaspoon chili powder, plus more for garnish 
FRESH ground sea salt, to taste
Zest of 1 lime 
Meanwhile, in a small bowl, combine the sour cream, mayonnaise, chili powder, salt and lime zest. Set aside.
LOADED TOTS
One 1 3/4-pound bag frozen tater tots
FRESH ground sea salt and black pepper
1 pound ground chuck
1 1/2 cups frozen corn kernels or FRESH 2 ears corn, kernels removed
1 can rotel tomatoes, drained
8 ounces shredded mozzarella
6 ounces crumbled queso fresco
1/2 cup fresh cilantro, roughly chopped 
1/2 bunch green onions, sliced 
Pickled Red Onions
Lime wedges, for garnish 
Preheat the oven to 450°.

Place the tots on a rimmed baking sheet lined with parchment paper, then sprinkle lightly with salt and pepper.

Bake until golden and crispy, 25 to 30 minutes.

Meanwhile brown ground beef until crumbly and just about cooked through. Drain of excess grease.
Add most of the green onions, reserving a few for garnish, and saute' a minute more.
Add rotel tomatoes and corn, stirring to combine well.

Remove the tots from the oven

and sprinkle evenly with browned beef mixture, all of the mozzarella and half of the queso fresco to cover.

Bake until melty, 3 to 5 minutes.
ASSEMBLY
Sprinkle with remaining queso fresco and add big dollops of the lime cream.

Garnish with the chopped cilantro, green onions, Pickled Red Onions, a dash of chili powder and salt.

Squeeze fresh lime juice on top and enjoy!