Part of this week's Wednesday Hodgepodge plays right into yesterday's Tuesday 4. You can play along over at Wednesday Hodgepodge.
Today is Mickey Mouse's birthday…happy birthday Mickey! Have you ever been to Disney, any of the parks at all? Are you a Disney super fan or something less than that? They're open right now, so tell us, would you go if you had the time/money/a free trip?
I absolutely adore Disneyland! When I was a kid we lived in southern California and Disneyland as well as Knott's Berry Farm were the big attractions.  Grams and gramps would go all the way to Knott's Berry Farm with its Old Western Town feel JUST for the Sunday Chicken dinner that they were famous for. I was all about HIGHER and FASTER so it was roller coasters for me – Matterhorn, Space Mountain etc… but I'm also a sucker for the Haunted House, Pirates of the Caribbean, the Jungle Cruise and It's a Small World.  As for the foods at sit down places, my all time favorite was a Monte Cristo at the Blue Bayou along the river that runs through the Pirates of the Caribbean or the Polynesian Chicken at the Tiki Hut which unfortunately has been gone a long, long time. And the Fried Chicken dinner I mentioned above at Knott's Berry Farm was always a treat.  We didn't get many snack foods as my family was more into "real" meals. While I am staying socially distanced, wearing my mask and mostly staying home, I would consider a free trip if I was assured of reduced crowds and a socially distanced line queue, but NOT under previous protocols.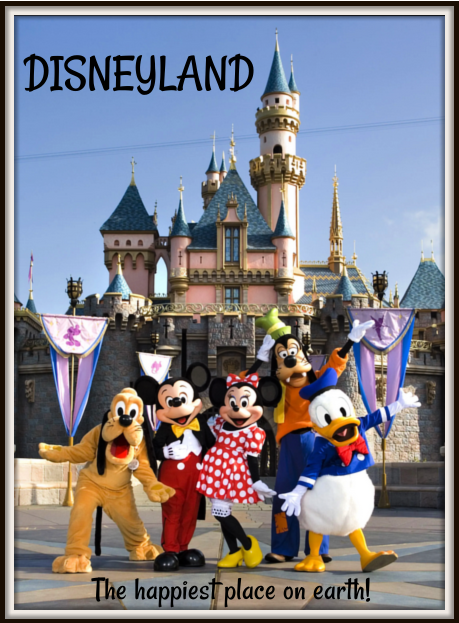 Your favorite place to go when you want to be quiet as a church mouse? Would those who know you well describe you as more church mouse or perhaps more like mighty mouse? 
This is a completely open ended question as for how others view me – totally depends on the circumstances of any given event. As for where I go to be quiet, I either go for a drive to do some photography or a hike.
The day before Mickey's birthday happens to be National Homemade Bread Day. Did/will you celebrate? Do you bake your own bread? Last time you had hot out-of-the-oven homemade bread? What's your favorite kind of bread?
Yesterday was my dad's birthday or would have been if he was still with us. Despite being National Bread Day, I always make an Upside Down Pineapple Cake – his favorite.
I do bake my own breads for the most part and my favorite bread is a super sour sourdough, but it's really hard to find these days! If I were making homemade bread today it would probably be beer bread to go with chili at this time of the year. I did recently see a fun new Ice Cream Bread over at Slow Roasted Italian that I want to try soon.  
What's something you might say is 'the greatest thing since sliced bread'? 
I guess that would have to be technology – things like cell phones and laptops. I find it utterly amazing the amount of information we literally have at our fingertips.
Let's keep the gratitude theme we started last week rolling on through November. Share with us five little things you're grateful for today. Small blessings. One catch-they all must start with the letter T. Gotta keep us thinking, right? 
T

oasty Warm Socks to keep my toes warm

T

urkey Breasts for roasting

T

ime to myself each day for reading

T

ea

T

ried and

T

rue/

T

imeless family recipes