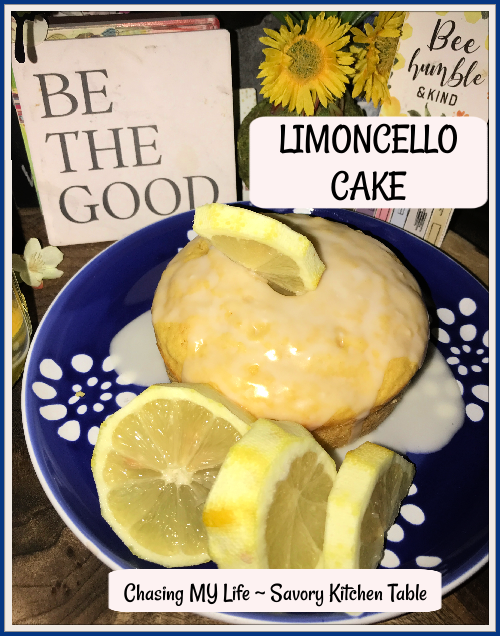 LIMONCELLO CAKE adapted from MOM ON TIMEOUT
This is a SUPER MOIST cake full of lemony flavor that is PERFECT for everything from a breakfast treat, afternoon snack or an elegant dessert!
1 ¾ cups all-purpose flour
2 teaspoons baking powder
½ teaspoon salt
½ cup avocado oil
1 cup granulated sugar
3 tablespoons homemade limoncello or lemon vodka
1 cup FULL fat sour cream at room temperature
2 LARGE eggs at room temperature
1 tablespoon lemon zest
1 teaspoon lemon extract
½ teaspoon vanilla extract
2-3 drops yellow food coloring
Preheat the oven to 350°F.

Spray a 9×5 loaf pan or decorative rounds with non-stick cooking spray and line with parchment paper. Set aside.

In a large bowl, whisk together the all purpose flour, baking powder and salt.

In a medium bowl, whisk together oil, granulated sugar, sour cream, limoncello, lemon zest, eggs, lemon extract, vanilla extract and food coloring,

whisking together just until combined. Be careful not to over mix.


Transfer the batter to the prepared pan and smooth top.


Bake for 45 to 55 minutes or until a toothpick inserted into the center of the cake comes out with moist crumbs. If using decorative rounds you'll need to adjust your baking time accordingly.

Let the cake rest in the pan for 10 minutes before carefully removing and transferring to a cooling rack. Allow the cake to cool completely before adding the glaze.
LIMONCELLO GLAZE
1 cup powdered sugar sifted
2 to 3 tablespoons limoncello
Whisk the powdered sugar and limoncello together until no lumps remain. If it's too thin add additional powdered sugar a tablespoon at a time until you reach your desired consistency. If it is too thick add a bit more Limoncello, a teaspoon at a time.)


Drizzle glaze over the top of the cooled cake. Let the glaze set up before slicing and serving.




HOMEMADE LIMONCELLO
10 LEMONS, washed
1 770 ML bottle of VODKA (brand of your choice)
3 cups water
2 cups sugar
Using a vegetable peeler, remove the peels from the lemons in long strips. Reserve the lemons for another use. If any of the peels still have pith on them use a sharp knife to remove and discard the pith.

Place peels in a 2 quart pitcher or bowl.

Pour the vodka over the peels and cover with saran.

Steep the peels for 4 days at room temperature undisturbed.

Add the water and sugar to a large saucepan over medium heat, whisking 5 minutes until sugar is completely dissolved.

Cool completely.

Pour the syrup over the vodka mixture.

Recover and let stand overnight at room temperature.

Strain the mixture through a mesh strainer, discarding the peels.

Transfer the Limoncello to your bottle.

Seal and refrigerate until cold.

Keep refrigerated up to a month.