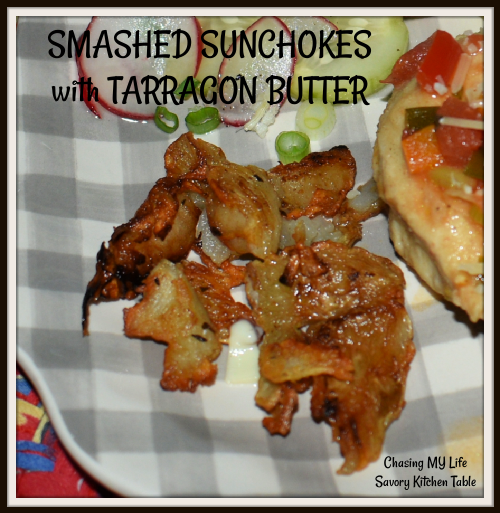 SMASHED SUNCHOKES with TARRAGON BUTTER
1 pound sunchokes, rinsed, peeled and trimmed of any dark spots
FRESH ground sea salt and black pepper
1 tablespoon avocado oil
2 tablespoons unsalted butter
1 tablespoon FRESH tarragon leaves
Finishing salt

In a medium saucepan, cover sunchokes with 1 inch cold water.

Season generously with salt. The water should taste nicely salted, as if you were seasoning soup.

Bring to a boil over high heat, then reduce heat to maintain a gentle simmer.

Cook until paring knife inserted into a sunchoke meets little resistance, about 10 minutes; DO NOT OVERCOOK.



Drain sunchokes in a colander.

When cool enough to handle, place sunchokes on work surface or cutting board and "smash" enough to flatten, but not break them apart with a heavy skillet. 



In a large cast iron skillet, heat oil over medium heat until shimmering.

Add sunchokes in a single layer and cook without moving until well browned, about 3 minutes.

Flip sunchokes, then add butter to the pan and allow to melt.

Add half of the tarragon leaves to the melted butter and continue to cook, spooning butter over sunchokes, until browned on the second side, about 3 minutes longer.


Transfer sunchokes to a serving plate and spoon the tarragon butter on top.

Garnish with remaining tarragon leaves and sprinkle with flaky salt.

Serve immediately.