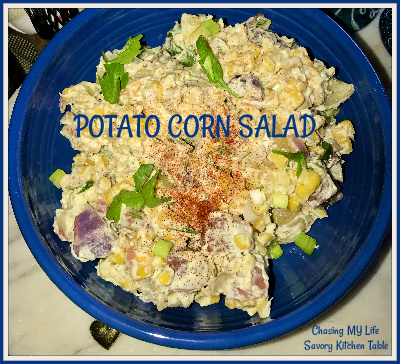 POTATO & CORN SALAD
2 pounds YUKON potatoes, bite sized diced
4 ears sweet corn, cut off the cob
1 can chopped green chiles, drained well
1 LARGE shallot, diced
2 tablespoons butter
FRESH ground sea salt and black pepper
1/4 cup chopped FRESH cilantro
2/3 cup Mexican sour cream
1/3 cup Dukes Hint of Lime mayonnaise
2 LARGE limes, juiced
3 tablespoons apple cider vinegar
1 cup crumbled Cotija cheese
Lime Wedges, for garnish
Minced green onions, for garnish
Place potatoes in a large sauce pan and cover with water and bring to a boil. Reduce heat and simmer uncovered 5 minutes until potatoes are fork tender. Drain.

While potatoes are cooking, prepare corn.

Melt butter in large skillet (preferably cast iron).

Add corn and shallots, sauteing until corn is a bit charred.

Add green chiles and FRESH ground sea salt and black pepper, sauteing 5 minutes more and then set aside to cool a bit.

While potatoes are cooking and corn is sauteing, prepare sauce.

Whisk together the mayonnaise, sour cream, apple cider vinegar and lime juice.

After potatoes are drained ad them while still warm to the mayonnaise mixture.

Fold in the corn mixture and cheese, stirring to blend well.

Chill several hours until ready to serve.

Serve with lime wedges and sprinkled minced green onion.