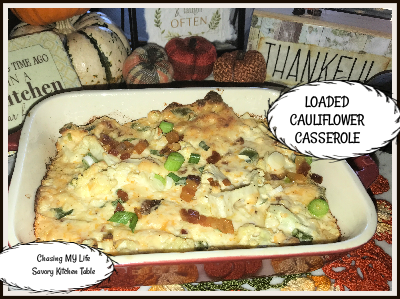 LOADED CAULIFLOWER CASSEROLE
2 pounds cauliflower florets, cut into bite sized pieces
8 ounces cream cheese, softened to room temperature
1/2 cup FULL fat sour cream
1 1/2 cups FINELY shredded sharp cheddar cheese
1 1/2 cups FINELY shredded Monterey Jack cheese
3/4 teaspoon garlic powder
3/4 teaspoon onion powder
1/2 – 1 teaspoon SLAP YO MAMA seasoning(depending on your level of heat)
4-6 slices crispy cooked bacon, coarsely chopped
1 bunch FRESH chopped green onions, chives or parsley (save some for garnish)
FRESH ground sea salt and black pepper to taste
Steam the cauliflower florets 10 minutes until fork tender.

Drain WELL.

Preheat oven to 425°.

Spray a 9 x 13 inch baking dish with non-stick cooking spray.

In a large bowl combine the cream cheese, sour cream, cheddar cheese, Monterey Jack, garlic powder, onion powder and slap your mama seasoning until well blended.

Mix until creamy and smooth.

GENTLY fold in cauliflower, 1/2 of the bacon and green onions.

Season to taste with FRESH ground sea salt and black pepper.

Spoon into a casserole dish and top with the remaining bacon.

Bake uncovered for 20-25 minutes or until the cheese is completely melted.

Top with remaining chives and serve.
NOTE: This Loaded Cauliflower Casserole also makes a wonderfully filling full meal by adding 2 cups rotisserie chicken pieces, 1 pound of browned ground beef or pork.