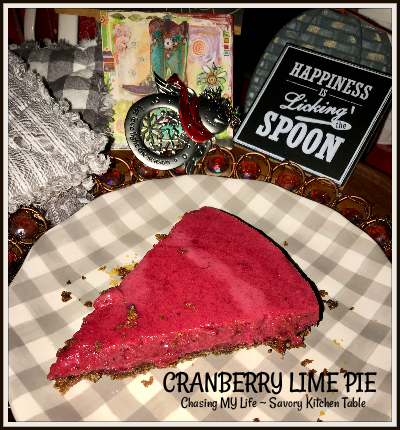 CRANBERRY LIME PIE 8 Servings adapted from Ann Redding & Matt Danzer
In this luscious pie, key lime meets a luscious cranberry curd to create a heavenly mouthful of flavor.
CRUST
4 ounces gingersnap cookies (about 16 if using Nabisco) (1 cup crumbs)
1 cup pecans
4 tablespoons unsalted butter, melted
3 tablespoons light brown sugar
Preheat oven to 350°.

Pulse cookies in a food processor until very finely ground.

Add pecans; pulse until finely ground.

Add butter and brown sugar; pulsing to combine.

Transfer to a deep 9″ pie dish. Using your fingers or a measuring cup, press firmly onto bottom and up sides of dish.

Bake 10-15 minutes until firm and slightly darkened in color. If crust slides down sides, gently press back up.

Let cool completely.

NOTE: Crust can be baked 1 day ahead. wrap tightly and store at room temperature.
FILLING & ASSEMBLY
1 12-ounce package FRESH (or frozen, thawed) cranberries, plus 4 ounces (about 1¼ cups) for serving OPTIONAL
1 cup + 1/2 cup + 1/2 cup + 1/2 cup sugar, divided
¼ orange juice
½ cup water
3 LARGE eggs
2 LARGE egg yolks
1 teaspoon FINELY grated lemon zest
2 teaspoons FINELY grated lime zest, divided
½ cup FRESH key lime juice
Pinch of kosher salt
¾ cup (1½ sticks) unsalted butter, room temperature, cut into pieces
Whipped cream (optional)
Bring 12 ounces of the cranberries, 1 cup of the granulated sugar, and orange juice to a boil in a large saucepan over medium-high. Reduce heat; simmer 12-15 minutes until cranberries burst and most of the liquid evaporates.

Let cool.

Purée in a blender until very smooth.


Add the purée, eggs, egg yolks, lemon zest, lime juice, salt, ½ cup sugar, and 1 teaspoon of lime zest to a heatproof bowl set over a saucepan of simmering water (bowl should not touch water), stirring with a rubber spatula 8-10 minutes and scraping down sides of bowl often, until curd thickens and coats spatula.

Let cool until just warm.


Using an electric mixer on medium-high, beat curd about 5 minutes, adding butter a piece at a time and incorporating after each addition, until curd looks lighter in color and texture.

Scrape into crust and chill until firm, about 2 hours.



OPTIONAL from here:

Bring ½ cup granulated sugar and ½ cup water to a simmer in a small saucepan over medium heat, stirring to dissolve sugar.

Add remaining 4 ounces of the cranberries and cook 1 minute until barely starting to soften.

Using a slotted spoon, transfer cranberries to a wire rack set inside a rimmed baking sheet.

Chill 20–30 minutes until no longer sticky.


Toss remaining ½ cup granulated sugar and 1 teaspoon lime zest in a small bowl.

Toss chilled cranberries in lime sugar.

Top pie with cranberries; serve with whipped cream if desired.


NOTE: Pie can be made 2 days ahead. Cover once filling is firm and keep chilled. Let sit at room temperature 2 hours before serving.