When I was a kid I remember driving by McDonalds and seeing their sign claiming how many burgers they had sold. It ALWAYS seemed like an exorbitantly high number to me, but these days I do believe hamburgers are one of the most eaten fast food and BBQ sandwiches.
I'd never really thought about it, but got curious about the origins of the hamburger. It will probably come as no surprise that the hamburger can actually be traced back to Hamburg, Germany. Ironically you almost have to give the credit to Russia though. In the mid 18th century Hamburg was the largest port in Europe and the seaman brought the idea with them of their acquired taste of eating steak tartare from Russia. But, even Russia cannot lay claim as it was the Mongul nomadic warriors that brought steak tartare with them from central Asia to Russia to begin with. The legend claims that the warriors would tenderize their meat by placing it under their saddles during their long rides where the motion of the saddle would tenderize the meat to a pulp and they would then enjoy the meat raw. I can find no mention of who actually decided to cook the meat into a "burger". But according to my research it was the German immigrants brought the cooked burger to us here in the states.  The first North American restaurant to offer up a hamburger steak on their menu was DelMonico's in 1834 New York. Strangely enough the hamburger steak sold for 10¢, double the price of roast beef and even veal. Eventually, people became more familiar with hamburgers and the price dropped as it became more a food of the masses when it was placed on a bun with the added condiments, tomatoes, pickles and was sold on horse drawn lunch wagons, at diners and lunch counters instead of the elite.
The one thing that everyone seems to agree on is that a good burger has a good amount of fat to keep the burger moist. LESS is more when preparing a GOOD burger. LESS ingredients and LESS handling – lets the meat speak for itself. 😀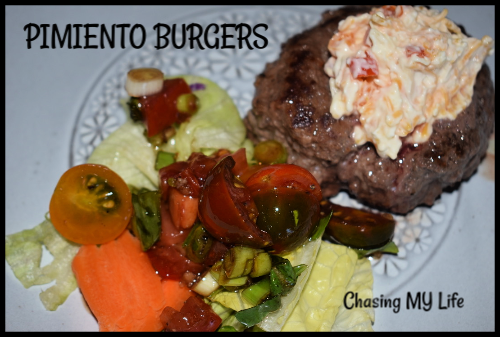 PIMIENTO CHEESE BURGERS
1 – 1 1/2 pounds ground sirloin
FRESH ground sea salt and black pepper
Pimiento cheese (recipe below)
melted butter
Preheat grill to high for direct grilling. Lightly spray the grill with non-stick cooking spray.

Divide the ground chuck into four equal portions, 4-6 ounces each.

Form each portion into a 3/4-inch burger and make a deep depression in the center with your thumb.

Brush both sides of the burgers with the butter and sprinkle liberally with salt and pepper.

Grill the burgers, turning once until golden brown and slightly charred on both sides and cooked to desired temperature, about 4 minutes each side for medium.

During the last minute of cooking, place a dollop of the pimiento cheese mixture on top of each burger and close the grill lid, cooking JUST until the cheese has melted, about 1 minute.
Place the burgers on the buns (if desired) and top with the bacon, sliced red onions, sliced tomatoes, your favorite pickles and lettuce as desired.
SPICY PIMIENTO CHEESE
12 ounces softened cream cheese
1 pound SHARP Cheddar cheese, finely grated
3/4 cup Duke's mayonnaise
1 large Red Bell Pepper, washed, seeded, roasted and chopped fine
1 teaspoon QUALITY Worcestershire sauce
Juice of 1 lemon
1 tablespoon Frank's original Hot sauce
1/2 teaspoon kosher salt
1/4 teaspoon cayenne pepper
Mix together the cream cheese, mayonnaise, Worcestershire sauce, lemon juice, cayenne pepper, hot sauce and salt until smooth.

Blend in grated Cheddar cheese.

Fold in bell pepper until well distributed.

Chill well.

Serve with crackers or on a burger.