This is one of our favorite comfort meals in the fall. Herbs, garlic and lemon come together to oomph up a Sunday dinner BIG time. How can you go wrong with mashed potatoes, tender juicy chicken and garlic gravy? But, you have to plan ahead! This needs to be started early in the morning for the brine to add the maximum flavor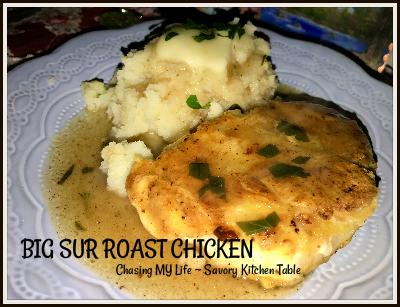 BIG SUR ROAST CHICKEN
4 boneless, skinless plump chicken breasts
1 cup KOSHER salt
6-8 WHOLE black peppercorns
1/2 cup brown sugar
3 tablespoons WONDRA flour
2 LARGE eggs, beaten
2 garlic cloves, FINELY minced
1 tablespoons avocado oil
2 tablespoons butter
FRESH ground sea salt and black pepper, to taste
1 tablespoon FRESH chopped Italian leaf Parsley
1 cup HOMEMADE chicken stock
Juice of 1 LARGE lemon
Fill a large saucepan with 3 quarts of water and bring to a boil over high heat.

Add the salt, brown sugar and peppercorns, stirring until salt and sugar are completely dissolved.

Set brine aside until COMPLETELY cooled.

After brine is cooled, add chicken breasts, cover and refrigerate for 8 hours.

Remove chicken from brine.

Discard brine.

Rinse chicken and pat dry. Let chicken sit 15-20 minutes to come to room temperature.

Heat 1 tablespoon butter andthe avocado oil in a large skillet over medium-high heat.

Season chicken breasts to taste with FRESH ground pepper and sea salt.

Arrange beaten eggs and flour in 2 shallow bowls.

Dip chicken breasts in egg mixture and then Wondra flour, shaking off excess.

Sear chicken breasts 3-4 minutes per side until golden and cooked through.

Remove chicken breasts to platter and keep warm.

Add garlic to pan and sea 1 minutes until fragrant.

Add chicken broth, lemon juice and parsley to pan, simmering 10 minutes until flavors meld and heated through.

Swirl in remaining butter.

Plate chicken and serve with mashed potatoes.

Top with gravy and enjoy.