While Mary touts this as a one pan recipe I don't mind the extra dishes to make any recipe easier. Yields 6 to 8 servings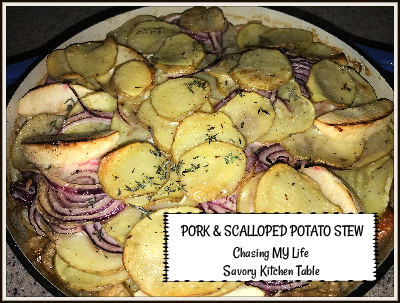 PORK & SCALLOPED POTATO STEW adapted from Mary Berg

STEW
1 1/2 – 2 pounds (700 grams) trimmed pork shoulder or tenderloin, cut into bite sized pieces
FRESH ground sea salt and black pepper, to taste
1/4 cup WONDRA flouor
4 tablespoons butter
1 red onion, peeled & cut into wedges
2 LARGE carrots cut diagonally into large rustic pieces
1 leek, cut into 1 inch slices
4-5 cloves, minced
1 cup (250 milliliters) dry cider (alcoholic – non alcoholic – your choice)
1 cup (250 milliliters) homemade chicken stock
2 sprigs FRESH thyme leaves
1 FIRM sweet apple
Juice of 1 LARGE lemon
2 cups baby spinach leaves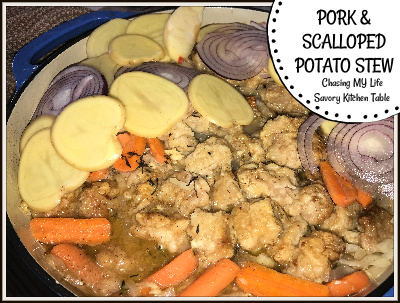 Place a large cast-iron skillet or oven-proof pan over medium-high heat.

Season the pork in a large mixing bowl with salt and pepper.

Scatter with 2 tablespoons flour and toss to coat.

Add the avocado oil to the pan and sear the pork in batches until golden brown.

Transfer pork pieces to a plate.

Add the butter to the pan along with the onions, carrots and leeks, cooking 5-8 minutes JUST until they begin to develop a little color.

Stir in the garlic along with the remaining 1 teaspoon flour and cook for 1 minute.

Add the pork and any juices back into the pan.

Add the cider, scraping the bottom of the pan to release any brown bits.

Stir in the stock and thyme.

Bring to a boil.

Cover the pot, reduce the heat to low and simmer for 45 minutes.

Meanwhile, peel and cut the apple into 8 to 12 wedges, toss with the lemon juice and set aside with the greens.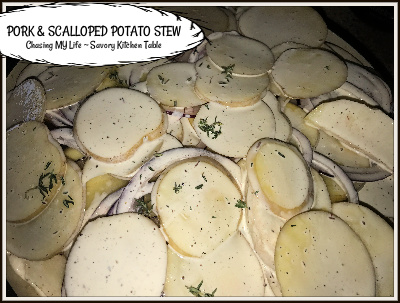 SCALLOPED POTATO TOPPING
1/3 cup (85 milliliters) half and half
FRESH ground sea salt and black pepper
FRESH grated nutmeg
1 tablespoon FINELY chopped thyme, plus more for serving
2 medium (about 550 grams/1 1/4 pounds) sweet potatoes, sliced 1/4-inch thick
2 medium (about 400 grams/3/4 pound) yellow potatoes, sliced 1/4-inch thick
1 SMALL red onion, thinly sliced rounds
Sour cream, for serving
Whisk together the cream with salt, pepper, a pinch of nutmeg and thyme.

Preheat the oven to 400°.

Stir in the apples and greens.

Arrange the sliced potatoes on top, alternating between the two colors, tucking in slices of red onion here and there.

Brush the topping with the cream mixture and transfer the pan to the oven.

Bake for 45 minutes to 1 hour, or until the potatoes are tender and golden brown on top.

Cool for 10 minutes before serving with sour cream and a sprinkling of thyme.