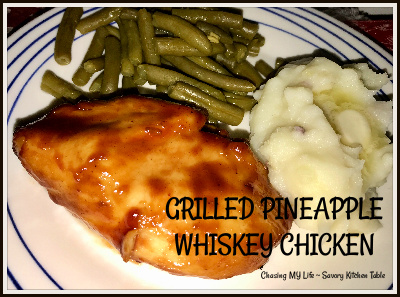 GRILLED PINEAPPLE WHISKEY CHICKEN – serves 4
Plan ahead to make this simply delicious and juicy BBQ chicken. Marinating for 24 hours or more is best for providing the most flavor.
¾ cup QUALITY whiskey
¾ cup pineapple juice
½ cup of your favorite BBQ sauce
4-5 garlic cloves, FINELY minced
2 tablespoons QUALITY Worcestershire sauce
FRESH ground sea salt and black pepper, to taste
4 chicken breasts
Whisk together whiskey, pineapple juice, BBQ sauce, garlic, Worcestershire sauce and pepper.

Pour over chicken and let marinate overnight (24 hours is best) in the refrigerator.

Remove chicken from marinade and grill for 12 to 15 minutes. (see notes)

Brush with additional BBQ sauce before removing from grill.
NOTES:
To prepare chicken inside instead of grilling, pan sear the chicken on both sides for 3 minutes.

Place the chicken on a baking sheet, brush with BBQ sauce and bake for 5-10 minutes at 400º.

You can substitute Bourbon if you prefer.