July 17th was National Ice Cream Day. So I made ice cream of course 😀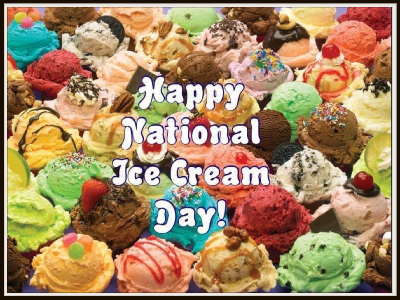 Hot where you are? What better way to beat the heat than to make some homemade ice cream? The best part about this recipe is that it's a completely no churn, soft serve recipe.  It's so good!! It disappears pretty quickly, so why not make a double batch. It is also great to change up in flavor by using flavored Oreos, freeze dried fruit flavors or a FRESH berries coulee! This one is plain with a hint of color and chocolate sauce.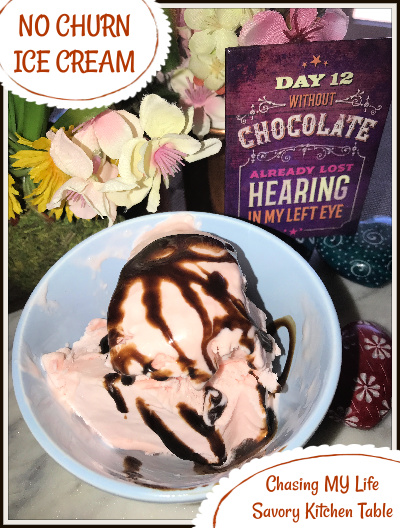 NO CHURN ICE CREAM ALA Duff Goldman serves 6
One 14-ounce can sweetened condensed milk
1 teaspoon pure vanilla extract **See NOTES
Pinch kosher salt
2 cups heavy cream
Your favorite toppings, such as sprinkles, caramel syrup, etc. for serving
In a large bowl, whisk together the sweetened condensed milk, vanilla and salt.




In a stand mixer fitted with a whisk attachment, whip the heavy cream to stiff peaks, about 3 minutes.

Gently mix a scoop of the whipped cream into the condensed milk mixture. Fold in the rest of the whipped cream very gently. Be careful not to overmix and deflate the mixture.

Transfer to a freezer container or a loaf pan, smooth the top, then press a piece of wax paper against the surface. This will prevent ice crystals from forming.

Freeze until the ice cream is frozen and scoopable, 6 hours to overnight.

Scoop the ice cream into bowls and serve with your favorite toppings or with a pie or cobbler. Enjoy!
NOTE: A great alternative is using 1/2 vanilla extract and 1/2 mint. And if you are using mint, why not add some mini chocolate chips too?
OR
NO CHURN COOKIE & CREAM ICE CREAM serves 6
2 cups heavy whipping cream
1 can sweetened condensed milk
1 tablespoon PURE vanilla extract
HALF of a 3 ounce package of vanilla pudding mix (or your flavor of choice)
1/2 normal package of Oreos, crushed (flavor of choice)

In a bowl, whip the heavy whipping cream and whip until stiff peaks begin to form.

In a separate bowl, pour in 1 can sweetened condensed milk.

Add the vanilla and the vanilla pudding.  Mix well.

Add in half of the crushed Oreo cookies and mix.  

Pour this mix into the whipped cream, and fold it in gently.

In a metal loaf pan, pour about half of the mixture.

Add a layer of crushed Oreos, and then top with the remaining ice cream mixture.

Sprinkle the top with the remaining crushed Oreos.

Cover with press and seal or plastic wrap and freeze for 24 hours.
NOTE: Make this any flavor you want by using flavored oreos.