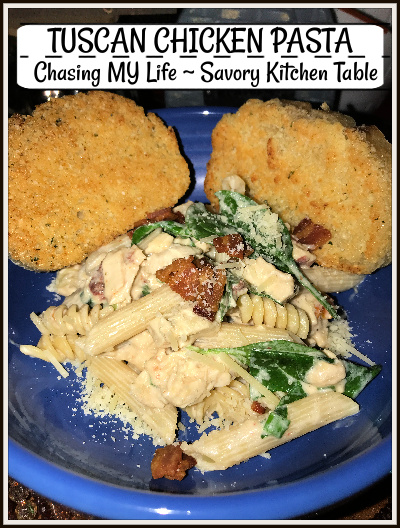 TUSCAN CHICKEN PASTA serves 4
2 cups rotisserie chicken breast pieces
8 ounces spiral pasta (I didn't have enough so I used half rotini and half penne)
3/4 + 1/2 cups chicken bone broth
2 tablespoons butter
3/4 cup WHOLE milk
4 ounces cream cheese, cubed
1/2 teaspoon garlic powder
3 cups fresh baby spinach
1 cup FRESH grated Parmesan cheese
1/2 cup sun-dried tomatoes
2 tablespoons chopped FRESH basil
3-4 slices bacon, diced – browned, drained of ALL fat and crisp
FRESH ground sea salt and black pepper
Add sun-dried tomatoes to 3/4 cup homemade chicken bone broth to re-hydrate for 1 hour. This can also be done 24-48 hours ahead of time.


Prepare pasta per package instructions.

While pasta is boiling, melt butter in skillet over medium high heat.

Add onions, sauteing 1 minutes or so.

Add the milk, cream cheese, remaining 1/2 cup chicken bone broth and garlic powder, c

ooking and stirring 3-5 minutes until cream cheese is melted and mixture is a smooth consistency.




Stir in 3/4 cup Parmesan cheese, sun-dried tomatoes, basil, spinach, salt and pepper c

ooking and stirring until spinach is wilted.




Serve immediately with garlic bread.



Garnish with additional basil, bacon bits and remaining FRESH grated Parmesan cheese.
NOTE: Leftovers can be placed in a casserole dish, topped with Mozzarella cheese. Bake 25 minutes until casserole is cooked though, cheese is melted and browned and serve as a new meal.