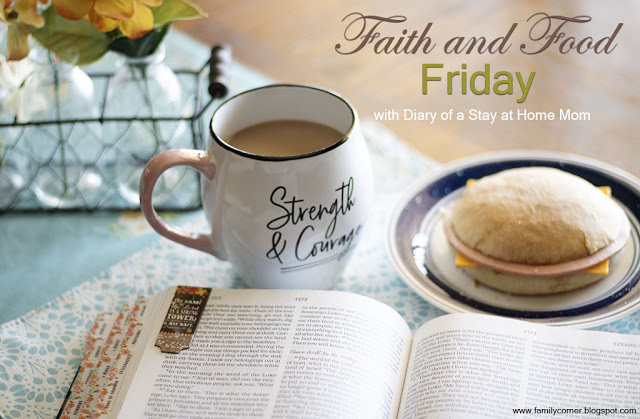 I'm still featuring my Mary & Martha GRACE meal prayer box on Faith and Food Friday, hosted by Sandra at Diary of a Stay at Home Mom.

THIS WEEK'S PRAYER: Dear God, Thank You for the food You provide, for a loving family side by side, for a warm and cozy place to live, and all the blessings that You give. Amen.

This is one of those recipes that I believe has been floating around in every housewife's recipe box for years and years, handed down through the generations – ESPECIALLY in the midwest. It also adapts to a slow cooker quite easily and I've provided those ingredients and directions below.
CHICKEN & WILD RICE ala Molly ala ANTIQUE RECIPE BOX find

3/4 cup wild rice, rinsed and drained
FRESH ground sea salt and black pepper
4 tablespoons unsalted butter
2 carrots, FINELY chopped
2 stalks celery, finely chopped
1 LARGE onion, finely chopped
6 tablespoons all-purpose flour
2 1/2 cups low-sodium chicken stock
1/2 cup heavy cream
1 teaspoon FRESH rosemary, chopped
2 sleeves (2 cups) KEEBLER butter crackers, crushed
1 tablespoon avocado oil
4 cups shredded rotisserie chicken
Chopped fresh parsley, for garnish
Preheat the oven to 375°.

In a medium saucepan, combine the wild rice, 1/4 teaspoon salt and 2 cups water and bring to a boil over high heat.

Reduce the heat to a simmer, cover and cook until al dente, about 30 minutes.

Drain the rice and set it aside.

In a large pot, melt the butter over medium-high heat.

Add the carrots, celery, onion and a pinch of salt and cook until the vegetables are softened, 12 to 15 minutes.

Add a third of the stock mixture to the pot and cook until thickened slightly, 3 to 4 minutes.

Stir in another third of the mixture and cook another minute or two.

Add the remaining third and cook until thickened, 3 to 4 minutes. The soup should coat the back of a spoon.

Add the rosemary, black pepper and salt to taste.

Taste and adjust the seasoning as desired.

Mix the butter crackers and olive oil in a bowl. Set aside.

In a 9-by-13-inch casserole dish, spread a third of the soup on the bottom of the dish.

Spread half of the rice on top of the soup and follow with half of the shredded chicken spread across the rice.

Repeat the layers, then top with the remaining third of the soup mixture.

Top with the butter cracker mixture.

Bake until bubbly, about 45 minutes.

If the cracker topping is getting too browned, cover with foil.

Garnish with chopped parsley.

SLOW COOKER INGREDIENTS & DIRECTIONS
2 cups uncooked wild rice
1/2 cup FINELY chopped celery
1/2 cup chopped onions
8-12 ounces mushrooms
2 cups bite size chicken breast pieces
FRESH ground sea salt and black pepper, to taste
1/4 teaspoon garlic powder
1 tablespoon chopped parsley
Wash and dry rice.

Combine all ingredients in the crock pot, mixing well.

Cover and cook on low 4-6 hours or until rice is tender.

Do NOT remove lid before 4 hours.