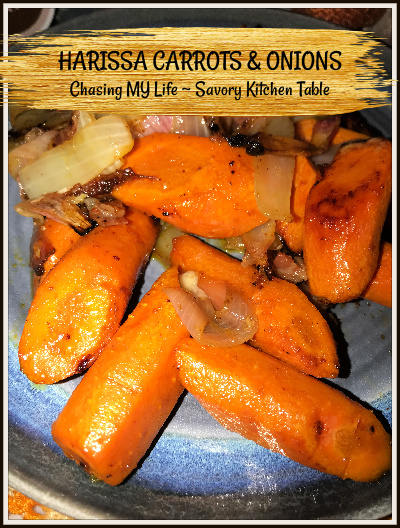 HARISSA CARROTS & ONIONS adapted from Molly Yeh
2 pounds medium rainbow carrots, halved lengthwise
2 LARGE shallots, cut lengthwise into wedges
1/4 cup avocado oil for drizzling 
FRESH ground sea salt and black pepper
2 tablespoons lemon juice
1 +/- tablespoon Harissa paste (recipe below)
2 cloves garlic, FINELY minced
Zest of 1 LARGE lemon 

Preheat a grill or grill pan over medium heat.

(see notes)

Put the carrots and onions in a large bowl and drizzle with avocado oil.
Sprinkle with salt and toss to coat.
Place the carrots on the grill and cook, flipping halfway through, until fork-tender, 10 to 12 minutes. 
Meanwhile, combine the avocado oil, harissa paste, garlic, lemon juice and black pepper in a small bowl.
When the carrots are almost cooked, brush with the harissa glaze.
Remove from the grill and transfer to a serving plate, then drizzle with additional harissa glaze.
Serve and enjoy!
NOTES:
You can alternatively roast the carrots in the oven by preheating the oven to 425° and lining a sheet pan with parchment paper.
Once the carrots and onions are salted, spread on a sheet pan and roast, tossing occasionally, until a fork pokes easily into the thickest part of the carrot; begin checking for doneness at 20 minutes for skinny carrots but for big thick carrots it could take up to 45 minutes.
Brush the carrots with the harissa glaze during the last 10 minutes of cooking. You can then continue to the next step in the same manner as in the grilling recipe.
If using the oven you can also slice the carrots.

HARRISA PASTE
Use this North African spice blend to add heat to dressings, sauces, soups, and more!
1 tablespoon +/- Harissa spice blend, depending on desired spiciness
FRESH ground sea salt and black pepper
2 tablespoon lemon juice
1 tablespoon champagne vinegar or apple cider vinegar
1 tablespoon QUALITY tomato paste
4 cloves garlic, minced
1/4 cup avocado oil
Whisk spice blend into lemon juice and vinegar until you've achieved a paste.

Whisk in the tomato paste.

Stir in garlic.

Season to taste with

FRESH

ground sea salt and black pepper.

Adjust flavor as needed, adding more lemon juice or vinegar for acidity, paprika for smokiness, tomato paste for depth of flavor, or salt to taste.

Add paste to a jar. Store in the refrigerator for up to 1 month.