GOOD MORNING everyone!  I hope you have had a relaxing and enjoyable weekend.  Can you believe we're at the end of September already?  I hate to mention it, but that means Christmas is only 88 days away!  What a surreal year 2020 has been! I'm jumping right in as we are leaving in a few minutes for the all day trek to my favorite SIL's house! 😀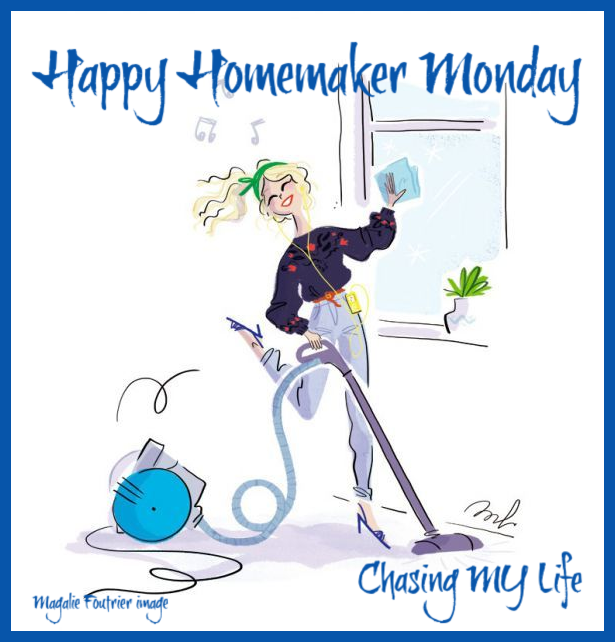 Be sure to join us for Happy Homemaker Monday and link up
with our host, Sandra at Diary of a Stay at Home Mom
OUTSIDE MY WINDOW & THE WEATHER OUTSIDE, WHAT I'M WEARING & HOW I'M FEELING THIS MORNING The weather is great here and supposed to be even better as we're headed back down to SIL's house for another visit to the lawyer this week so I'm dressed for traveling – comfy jeans, hoodie and favorite pops. 😀

ON THE BREAKFAST PLATE Ice Tea and baby food since we're on the road

| | |
| --- | --- |
| THIS WEEK'S TO DO LIST, PROJECTS & APPOINTMENTS | TRIP TO SIL'S HOUSE FOR A VISIT WITH THE TRUST LAWYER in hope of having some definitive answers to the multitude of questions that keep multiplying because of younger SIL'S lack of forthcoming information. |
WHAT'S ON THE DVR/TV

GOOD THING THESE THINGS ARE PORTABLE THESE DAYS 😀




NETFLIX

– I finished season Hart of Dixie, On season 1 of Cobra Kai


PRIME

– Eureka season 4


HULU

– 11-22-63

CRACKLE – My Favorite Martian with Bill Bixby and Ray Walston – I remember watching some reruns as a kid 😀


IMDb

– nothing last week


CABLE

– NASCAR (trucks, Xfinity and CUP series) – normally it would be ALL football and lots of it, but hubby is fed up with all the political aspects and is just not watching it much. We did see the Chargers and Chiefs as well as the Patriots and Seahawks last night.
I'M READING Ava Miles Merriam's series book #6 A BREATH OF JASMINE, but am almost finished and have downloaded a couple more for the road.  Up next is GATORS AND GARTERS by Jana Deleon Book #18 in her Miss Fortune series followed by QUINN VALLEY RANCH trilogy by Pamela Kelley.

FAVORITE PHOTO FROM THE CAMERA Well, I did it!  I took the plunge into hope that 2021 is worth planning for!  I bought a 2021 planner! 😀

INSPIRATIONAL

LIFE TIP
HOMEMAKING/COOKING TIP
MENU PLANS FOR THE WEEK
| | | | | | | | |
| --- | --- | --- | --- | --- | --- | --- | --- |
| | MONDAY | TUESDAY | WEDNESDAY | THURSDAY | FRIDAY | SATURDAY | SUNDAY |
| DINNER | SIL's CHOICE | CSIL's CHOICE | SIL's CHOICE | SIL's CHOICE | SIL's CHOICE | ?? | ?? |
| DESSERT | | | | | | | |
SUCCESSFUL RECIPE LINKS FROM LAST WEEK
BAKED RICOTTA DIP
ITALIAN MEATBALLS in RUSTIC TOMATO SAUCE
CREAMY CHICKEN, STUFFING& GREEN BEAN CASSEROLE
FEATURED PARTY LINKS FOR THIS WEEK
RECIPES TO LOOK FOR THIS NEXT WEEK OR SO
UPDATED HUNTER CHICKEN

GREEN BEANS IN BACON CHEESE SAUCE

CHOCOCHIP RAISIN OATMEAL COOKIES

CHEESY STUFFED CHICKEN