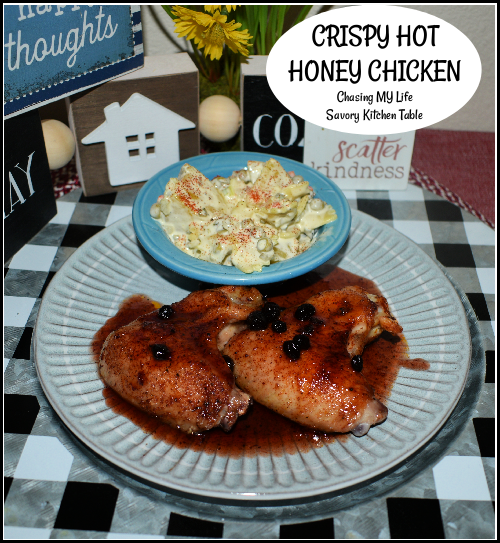 CRISPY HOT HONEY WINGS
WINGS
2 1/2 pounds chicken wings
2 teaspoons kosher salt 
FRESH ground sea salt and black pepper 
1 teaspoon smoked paprika 
Preheat the oven to 400°.

Line a sheet pan with foil, then place a metal rack on the pan.

Mix together the salt, pepper and paprika to make a dry rub.

Pat the wings dry, then generously sprinkle with the rub on all sides.

Place them on the rack, making sure they are not touching.

Bake for 25 minutes, then pull them out.

Use tongs to turn them over, then put them back in the oven and bake another 20 minutes until golden brown and cooked through.
SAUCE
1 cup QUALITY honey
1 tablespoon Sweet Baby Ray's BBQ sauce 
1 tablespoon Frank's original hot sauce 
2 tablespoons apple cider vinegar 
1 jalapeno, thinly sliced
1 serrano chile, thinly sliced
Add the honey, barbecue sauce, hot sauce, vinegar, jalapenos and serranos to a small pot over low heat, stirring to combine well.

Bring to a simmer and continue cooking 20 minutes or so until reduced and slightly thickened. Stir regularly.

Remove the wings from the oven and turn the oven to broil.

One by one, dunk the wings in the sauce.

Place them back on the rack and broil for 2-3 minutes to caramelize. Watch so they don't burn.

GARNISH (if desired)
1/4 cup chopped fresh parsley or green onions
Bleu Cheese dressing, for serving 
Place the wings on a platter and sprinkle over the chopped parsley.

Serve with a bowl of dressing for dipping.