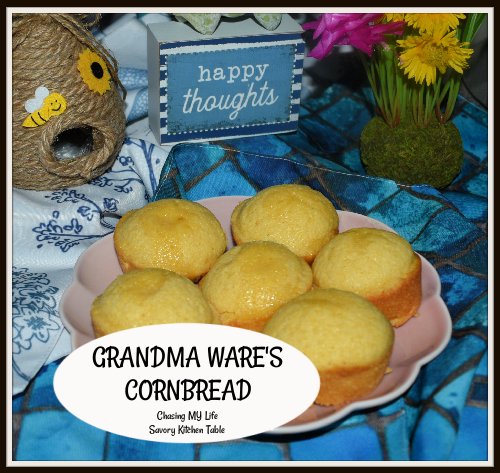 GRANDMA WARE'S SKILLET CORN BREAD
1 cup white corn meal or half white and half yellow
1 heaping teaspoon flour
1 rounded teaspoon salt
2/3 cup buttermilk
1 LARGE egg
1 tablespoon bacon grease
Preheat oven to 350°.

Whisk together the dry ingredients in mixing bowl.

Whisk egg and buttermilk together.

Fold wet ingredients into dry ingredients JUST until belnded.

Grease cast iron skillet with bacon grease.

Pour batter into skillet and level.

Bake 20-25 minutes until toothpick comes out clean.
SWEET SOUTHERN CORNBREAD ala Duff Goldman
Level: Easy Total: 45 min Active: 10 min Yield: 12 mini loaves
1 cup finely-ground yellow cornmeal
6 tablespoons cake flour
6 tablespoons sugar
1 1/4 teaspoons baking powder
1 cup buttermilk, at room temperature
1/4 cup canola or vegetable oil
1 LARGE eggs
1/2 tablespoon kosher salt
Nonstick cooking spray
Preheat the oven to 375°.

Place an 8-cavity mini loaf pan in the oven to heat up.

Meanwhile, in a large bowl, whisk together the cornmeal, cake flour, sugar and baking powder.

In a medium bowl, whisk the buttermilk, oil, eggs and salt to a uniform color.

Quickly but gently fold the liquid mixture into the dry mixture. It should be a loose batter, not a dough.

Carefully remove the loaf pans from the oven and quickly spray with cooking spray.

Divide the batter evenly among 6 cavities of the loaf pan and bake until the tops are golden brown and a toothpick inserted in the middle comes out clean, 28 to 30 minutes. Rotate the pans 180° halfway through baking.

Immediately turn the cornbread loaves out of the pans onto a cooling rack to cool. This will also ensure they build a crisp crust.