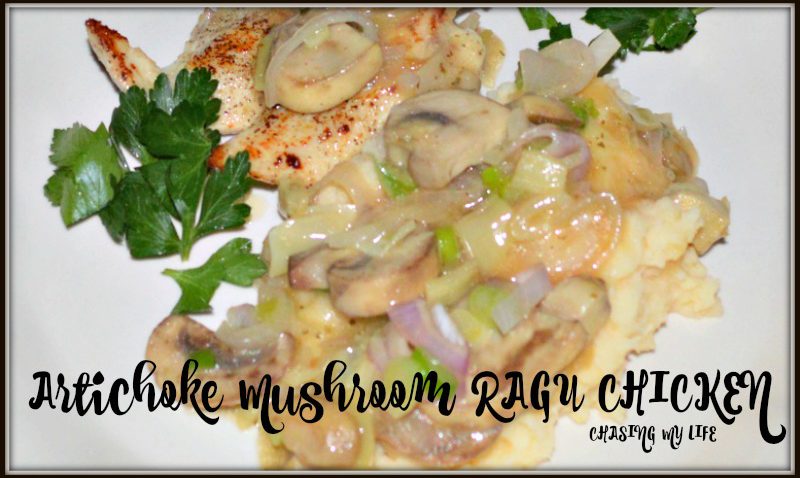 ARTICHOKE MUSHROOM RAGU CHICKEN serves 2
3 cups mushrooms of your choice (I like a mix of cremini and shiitake), quartered or thickly sliced
1 large leek, thinly sliced
1 small shallot, sliced thin
2 green onions, sliced thin
1+1 tablespoons avocado oil
2 boneless, skinless chicken breasts**
FRESH ground salt and pepper, to taste
1/2 cup dry white wine (Reisling)
1/2 cup chicken broth
1 tablespoon unsalted butter, melted
1 tablespoon WONDRA flour
1 teaspoon apple or apricot jelly
15 ounce jar marinated artichoke hearts, DRAINED WELL, and chopped
Torn FRESH tarragon
Heat avocado oil in large skillet over medium-high heat.
Add mushrooms and saute' until beginning to caramelize.
Add leeks, shallots and green onions, stirring until soft.
Add artichoke hearts and stir to combine and heat through.
Transfer to a mixing bowl, cover and keep warm.
Wipe out skillet

**

.
Add remaining oil to skillet and sear chicken for 2-3 minutes (depending on thickness), flip and sear other side.
Remove chicken to plate.
Deglaze pan with wine, scraping up bits from bottom.
Add broth, return chicken to pan

**

, reduce to low.
Whisk together butter and flour for a roux.
Add jelly to roux.
Add roux to sauce and simmer 5-8 minutes.
Transfer chicken to cutting board. Cover and keep warm.
Add in mushroom mixture and stir to heat through.
Slice chicken and arrange over Buttermilk mashed potatoes.
Top with mushroom ragu.
Garnish with Tarrgon or Parsley.
Enjoy.
NOTE: Many times I use thinly sliced chicken pieces like medallions and when I do I use a second pan to cook those while making the final sauce to keep the timing together as they do not need additional cooking time.