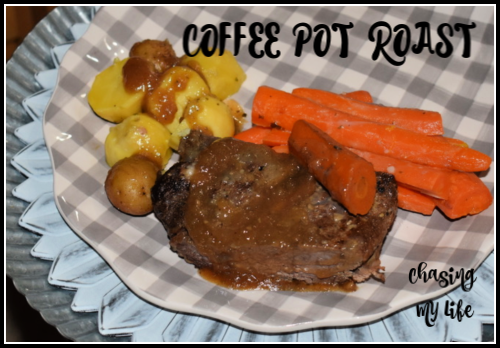 COFFEE POT ROAST ala SLOW COOKER – serves 4
2 pounds boneless chuck roast, quartered**
2 Medium onions, halved and wedged
3 cloves garlic, minced
1 cup brewed coffee
1/4 cup Bragg's liquid amino acids
8-10 small gold potatoes, scrubbed and pricked with a fork
3 LARGE carrots, rustic large cuts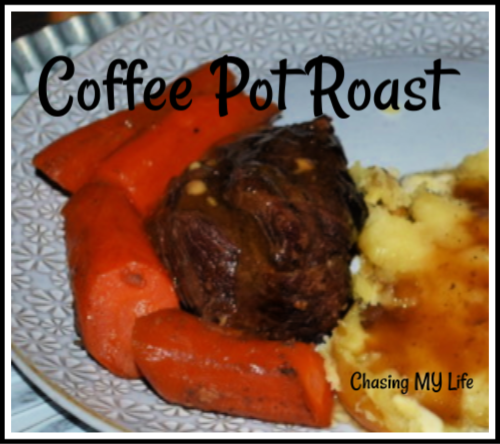 1/4 cup cornstarch
6 tablespoons cold water
Place half the onions in the bottom of the slow cooker.
Top with the garlic followed by half the beef. Repeat the layers.
Whisk together the coffee and liquid aminos.
Pour over beef.
Cover and cook on low until meat is tender, about 8 hours.
At 6 hours add the carrot pieces.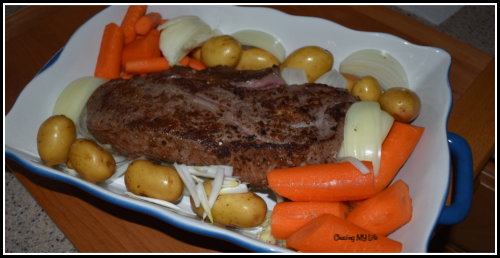 Whisk together the cornstarch and water until smooth. Add to cooking juices, stirring to blend.
Cover and cook on HIGH (about 30 minutes) until gravy is thickened.
NOTES:
**The original recipe was for slow cooking, but I prefer the oven unless I'm going to be gone all day. If I use the oven I DO NOT quarter it. If using the oven adjust the roasting time to 2-3 hours of covered and undisturbed roasting with the potatoes and carrots.
The original recipe had you slicing the onions thin. BUT, if you halve it root to tip and then wedge it you not only get thin pieces, you also get MORE flavor when you cut the onion in this direction.
The original recipe did NOT call for browning the meat, but I find you get a juicier roast with more flavor if you do so when roasting in the oven.