I usually make my version of  HOT BROWNS from THE BROWN HOTEL recipe from the OFF THE EATEN PATH cook book by Morgan Murphy. BUT, tonight we're trying DAMARIS PHILLIPS' version and fell in love with the different assembly method making it a casserole instead of a knife and fork dish. Next time we will be using a new combination of our norm and DAMARIS PHILLIPS' assembly version. 😀 I also use the sweet & spicy bacon – YUMMY!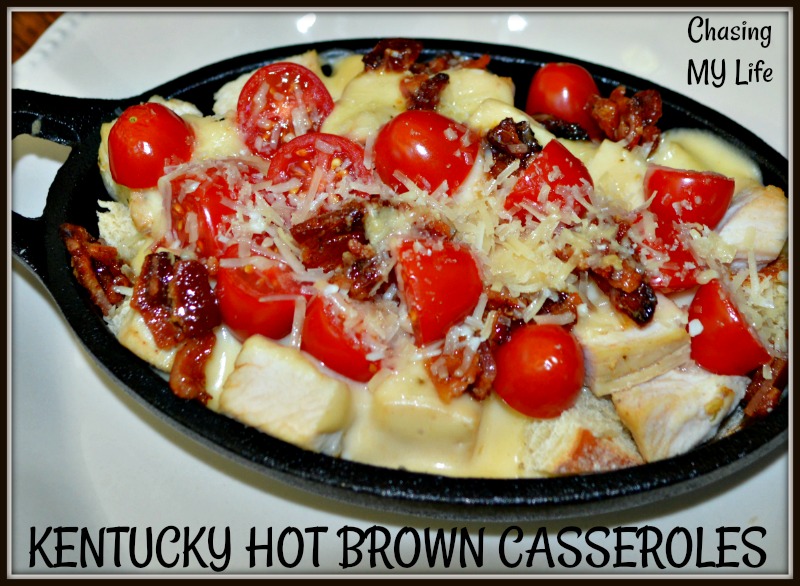 KENTUCKY HOT BROWNS – UPDATED ala DAMARIS PHILLIPS
1 skin-on, bone-in turkey breast half (about 2 pounds)
4 teaspoons avocado oil
FRESH ground sea salt pepper
4 ounces slab bacon, chopped
1 pint grape tomatoes, halved
4 tablespoons unsalted butter
2 1/2 cups whole milk
3 tablespoons all-purpose flour
1 cup shredded sharp cheddar cheese (about 4 ounces)
1/4 cup chopped roasted red peppers
2 slices stale sourdough bread, cut into 1-inch cubes (2 heaping cups)
1/2 cup grated Parmesan cheese
Preheat the oven to 350°.
Rub the turkey with 2 teaspoons vegetable oil; sprinkle both sides with salt and pepper.
Place turkey on baking sheet and roast until the thickest part registers 160°, about 45-55 minutes.
Remove from the oven and let rest 15 minutes before chopping; the internal temperature will rise to 165°.
Meanwhile, place the bacon on a baking sheet and bake until crisp, about 20 minutes.
Transfer to a paper towel-lined plate to drain.
Reduce the oven temperature to 250°.
Coat the tomatoes with the remaining 2 teaspoons avocado oil and season with salt and pepper.
Place the tomatoes cut-side up on a separate parchment-lined baking sheet and bake until they start to dehydrate and wrinkle, about 45 minutes.
While the tomatoes are cooking, start the Mornay sauce.
Melt the butter in a medium saucepan over medium heat.
Heat the milk in a separate small saucepan over medium heat.
When the butter is melted, add the flour and stir continuously so the roux doesn't scorch, but becomes golden, about 2 minutes.
When the milk starts to simmer, slowly add it to the roux, stirring continuously so lumps don't form.
Increase the heat and bring to a boil, then reduce to a simmer and cook until the sauce is thick enough to coat the back of a spoon, 6 to 8 minutes.
Add the cheddar and roasted peppers and stir until smooth.
Remove from the heat and season with salt and pepper.
Preheat the broiler.
Distribute the bread cubes evenly among four 6-inch cast-iron gratin pans (or use disposable pie plates or other small pans).
Cut the turkey into 1/2-inch pieces; discard the skin and bones.
Divide the turkey evenly among the pans.
Spoon the Mornay sauce over the turkey, then top with the tomatoes.
Sprinkle with the Parmesan and bacon and broil until golden and bubbling, about 5 minutes.
Serve immediately.