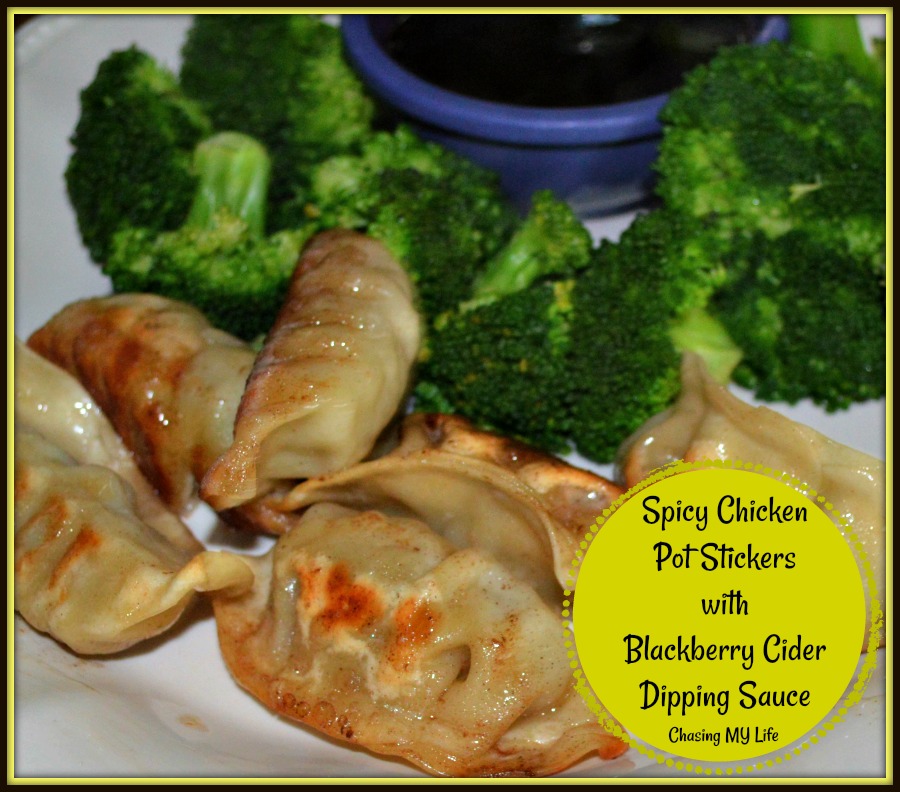 SPICY CHICKEN POT STICKERS with BLACKBERRY SAUCE makes 3 dozen
POT STICKERS
1 pound lightly browned ground chicken
1/2 cup shredded cabbage
1 carrot, shredded
2 cloves garlic, minced
2 green onions, thinly sliced
1 tablespoon Bragg's Liquid Aminos
1 tablespoon Hoisin sauce
1 tablespoon FRESH grated ginger
2 teaspoons sesame oil
1/4 teaspoon FRESH ground white pepper
1/4 teaspoon red pepper flakes
36 wonton wrappers
2 tablespoons avocado oil
In a large bowl combine the ground chicken, cabbage, carrot, garlic, green onions, liquid aminos, Hoisin sauce, ginger,, sesame oil, pepper and red pepper flakes until well blended.
Place 1 tablespoon of mixture into the center of each wonton wrapper.
Rub edges with a bit of water.
Fold edge over diagonally and crimp edges together to form each dumpling.
In a large skillet heat oil over medium heat.
Working in batches place pot stickers in a single layer – DO NOT CROWD PAN! Cook until golden and crispy, 2-3 minutes per side.
Drain each batch on a wire rack to drain while cooking the next batch.
DIPPING SAUCE
1/2 cup Bragg's Liquid Aminos
1/2 cup apple cider vinegar
2 teaspoons sesame oil
3 cloves garlic, minced
1 tablespoon FRESH grated ginger
1/3 cup blackberry jam
Whisk together ALL the ingredients.
Heat in a saucepan until desired heat and consistency.
Serve with pot stickers.