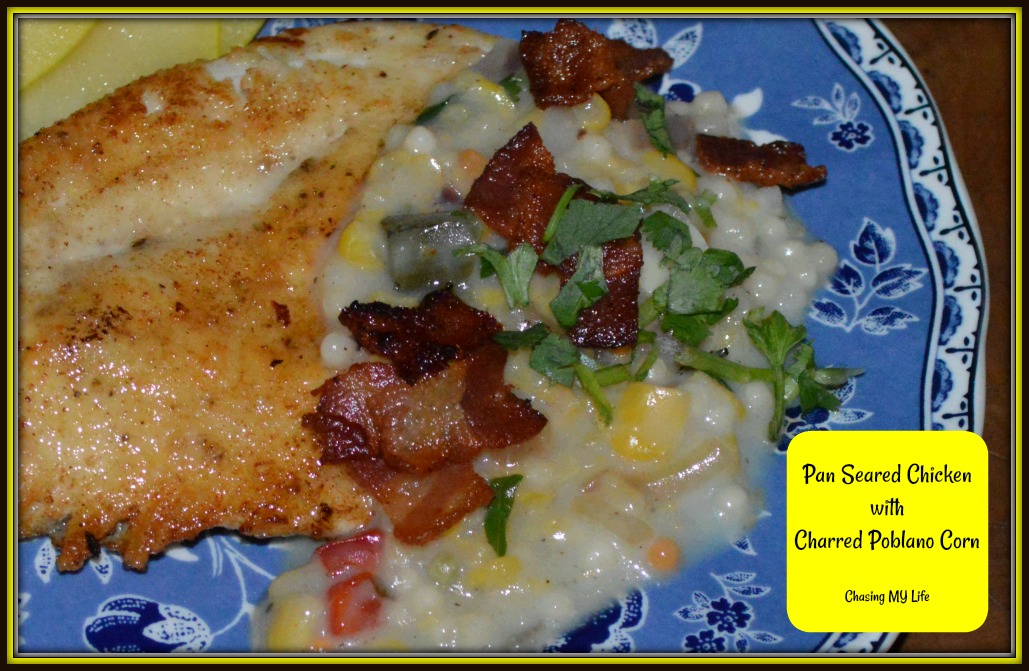 CHICKEN with CHARRED POBLANO CREAMED CORN & BACON – serves 4
4 chicken legs **
2 tablespoons avocado oil
6 slices bacon, diced
1 LARGE Vidalia onion, chopped
4 LARGE cloves garlic
1 cup whole milk
4 sprigs FRESH thyme, reserve 1 sprig to chop small
2 cups frozen corn, thawed
Juice of 1 lemon
Juice of 1 lime
1 Poblano pepper
FRESH ground salt and pepper, to taste
1/2 cup cilantro leaves
1 tablespoon chopped basil leaves
1/4 cup sour cream
Broil pepper to blister.
Place pepper in a sealed ziploc bag for 5-10 minutes to loosen skin.
Remove skin and seeds.
Heat a large skillet over medium high heat with 1 tablespoon of avocado oil.
Season chicken with salt and pepper. (Dredge with egg wash and Wonder if using skinless, boneless pieces)
Brown chicken pieces until golden and JUST cooked through.
Remove chicken to drain off excess fat. Keep warm.
Add bacon to pan and cook until crisp.
Remove bacon with slotted spoon.
Add onion and garlic cooking 2-3 minutes.
Add corn.
Add milk and 3 of the thyme sprigs and bring to a SLOW boil, immediately reducing to a simmer.
Add chicken pieces, cover and simmer 30 minutes if using bone in, 10-15 if using skinless boneless pieces.
Add corn and cook another 15-20 minutes until liquid is completely absorbed.
Plate creamed corn, and top with chicken.
Drizzle with lemon juice and sauce before serving.
Garnish with thyme leaves and crisp bacon.
NOTE:** This recipe can be made with boneless skinless thighs for easy eating, BUT having the skin that gets crispy and golden does add a layer of flavor and texture that makes a GREAT presentation. When I use skinless, boneless chicken I dredge the chicken in an egg wash and Wonder flour to give the illusion of a crusty skin.