There is a sentimental backstory to this recipe. When I was in college I was a server in a steakhouse that had these skewers on the menu. This was a highly coveted dish by ALL the staff on busy nights because you could seriously eat a bite on your way through. I can't even count how many of these plates we all shared eating a bite here and there.
At the restaurant we used a pre-prepared sauce from the distributor, but I've been working to develop a scratch recipe that I was happy with. I can report that I've done it.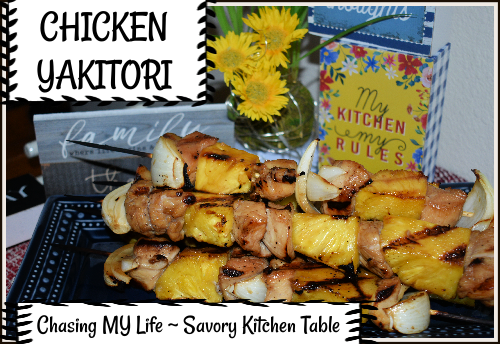 Yakitori literally means 'grilled bird' in Japanese and is prepared on charcoal grills on skewers as they were designed for portability as a "street food". Charcoal is the preferred method of cooking as it produces high heat and strong flames while giving off little to no water vapor.
After grilling the skewers are usually dressed in a "tare" sauce which is a dipping sauce best described as a sweet thickened soy based sauce, but there are MANY different variations. Many cooks will season the skewers while they are grilling in addition to a dipping sauce.
One of the keys to success with this dish is uniformly sized pieces of everything on the skewer.
CHICKEN YAKITORI aka JAPANESE CHICKEN on a STICK

SKEWERS
1 pound boneless, skinless chicken thighs
1 LARGE bunch green onions or 1 Vidalia onion cut into wedges
1 pineapple cut into 1 inch cubes
avocado oil
10 to 12 (5-inch) bamboo skewers
Soak skewers in water for 30 minutes.
Cut the white and light green part of scallions into 1 inch pieces.
Cut chicken into 1-inch cubes.
Alternate each chicken slice with a piece of pineapple and a scallion lined up perpendicular to the skewer.
TARE (YAKITORI) SAUCE
½ cup Bragg's liquid aminos
½ cup mirin
¼ cup sake
¼ cup water
2 tablespoons PACKED brown sugar
1 teaspoon FRESH grated ginger
2 green onions, green tops minced
In a small saucepan whisk together the mirin, liquid aminos, sake, water, brown sugar, grated ginger and green parts of scallion, and bring it to a boil over high heat.
Reduce the heat to low and simmer, uncovered, until the sauce is reduced by at least half. It will take about 30 minutes.
Let it cool to room temperature before using. The sauce will thicken with a glossy shine as it cools. Reserve ⅓ of the sauce in a small bowl for final coating after the chicken is  cooked.
Note: You can make the sauce ahead of time omitting the green onion part. Store in the refrigerator for up to 2-3 months.
PREPARATION
Heat grill to medium high.
Grease the grate of the grill to avoid the chicken sticking on the grate.
Place the skewers on top.
Sear for 4 minutes.
Turn skewers and sear the other side for 4 minutes.
Brush with sauce and grill 2 more minutes.
Flip and brush the other side and grill 2 more minutes.
Repeat the flipping and brushing until chicken is cooked through.
Transfer the skewers to a serving plate.
Brush the chicken again with the reserved sauce.