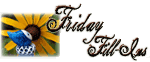 You can find the Friday Fill-Ins here!
1. If I could travel back in time, I'd go to 1976 and that's all I'm saying too.
2. Give me a good book or give me a stash of fabric.
3. I am listening to the 3rd episode of a Law and Order I had never seen.
4. Somewhere, someone is thinking that it's 5 o'clock somewhere….
5. I'll always be young at heart.
6. My idea of a good time includes varies based on the situation. In the winter is a hot cup of tea, a good book and being cuddled in my favorite corner of the couch.
7. And as for the weekend, tonight I'm looking forward to an evening with hubby, tomorrow my plans include lots of errands and the VFW's tractor run and Sunday, I want to finish my orange batik quilt.