Even though this is triple layered there are only two components to make because the crust 'dough' is split in half and serves as the topping too. The bars go in the oven three times: first to cook the crust then to cook the crust with the filling then one last time with the crumbs on top to bring it all together. Three times a charm.
At first glance, this recipe didn't look very promising. My expectations were low. When I'm wrong I admit it. I was wrong. I'm excited now over the possibilities and can't wait to make them with cranberries, cherries or figs for a seasonal treat… and wonder how chocolate chips would work out. Reasons enough to make them and eat them again and again because. . .
I heart sour cream raisin oatmeal bars!
These unassuming bars become unforgettable after only one or two bites.
Just long enough to reel you in hook, line and sinker. Resistance is futile.
Sour Cream Raisin Oatmeal Bars
Prep Time: 30 minutes
Cook Time: 45 minutes
Total Time: 1 hour, 15 minutes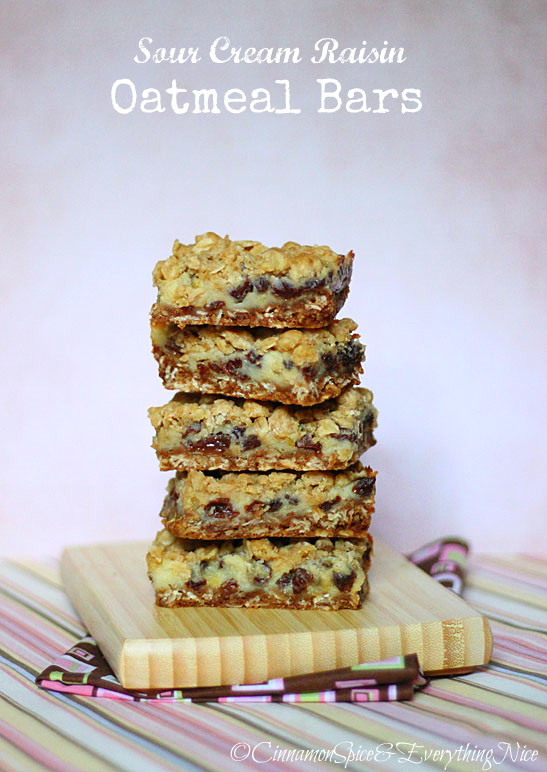 This old-fashioned favorite starts with an oatmeal crust followed by a cooked sour cream and raisin filling that ends with buttery crumbs gracing the top. Three-layers of irresistible decadence.
Ingredients
2 cups golden raisin
1 cup coconut rum
1 + 3/4 cups old-fashioned oats (not quick cooking)
1 + 3/4 cups flour
1 cup brown sugar
1 teaspoon baking soda
1 cup room temperature butter
4 egg yolks, lightly beaten
1 + 1/2 cups sugar
3 tablespoons cornstarch
2 cups sour cream (regular or light)
Put the raisins in a small bowl and cover them with the rum.
Pre-heat oven to 350° F. Spray a 9 x 13 baking dish with non-stick spray and line with parchment paper.
In a medium mixing bowl whisk together the oats, flour, brown sugar, and baking soda. Blend the butter in with a pastry blender or fork until small crumbles form. Measure out 1 + 1/2 cups of the topping into small bowl and refrigerate. Pat the rest of the topping evenly over the bottom of the prepared baking dish and bake for 15 minutes.
Meanwhile in a sauce pan over medium heat combine yolks, sugar, cornstarch, and sour cream. Cook over medium heat about 15-20 minutes until slightly thickened, the mixture should simmer slowly, if needed turn heat down. Some of the mixture may stick to the bottom of the pan – don't scrape it up. Remove from heat. Drain the raisins and stir them into the sour cream mixture.
Pour the raisin mixture over the baked crust and bake for another 15 minutes until the edges are set but the middle is still very jiggly.
Crumble the remaining oatmeal mixture evenly over top of the bars and bake for another 15 minutes. The bars may still wobble a bit in the middle but will set up when cooled.
Allow to cool completely then refrigerate until well chilled. Remove bars using parchment to a cutting board and slice into squares or triangles with a chef's knife wiped clean after each cut. Store in refrigerator up to 1 week.