The weather has been super gray so I decided to make some soup! Turned out to be some of the best soup ever!  I'm making this one again! One of the best parts is that when you're ready to eat you can doctor it up to your individual liking, just like a real cheeseburger.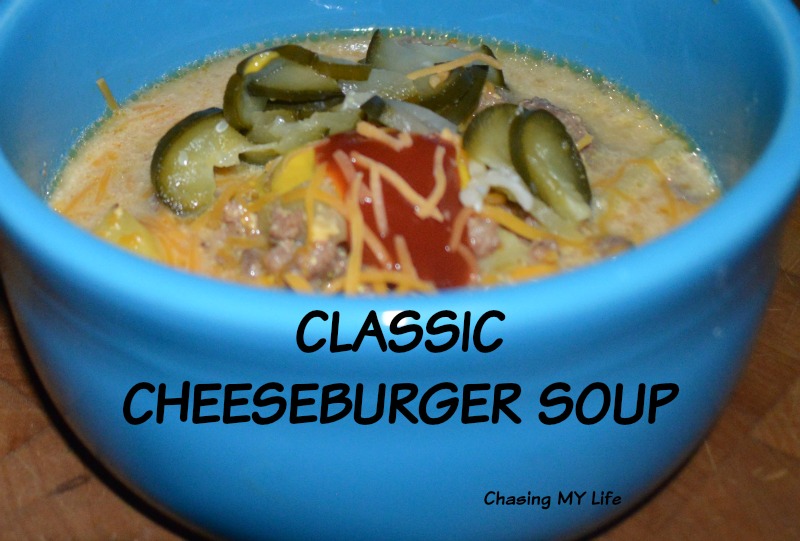 CHEESEBURGER SOUP
1 pound organic ground round
1 small sweet onion, chopped small
1 shallot, chopped small
3 cloves garlic, minced
2 tablespoons butter
3 cups beef broth
2 tablespoons Whiskey Worcestershire sauce
1 1/2 teaspoon Ancho chili powder
Salt and pepper, to taste
8 ounces Velveeta, cut into small chunks
3 small potatoes, diced
Pickles, Mustard, Ketchup, shredded cheese for garnish
In stockpot add beef and sprinkle with Chili powder. Brown beef, drain well of fat.
Add butter to pan and saute' onion, shallot and garlic.
Add broth, Worcestershire sauce and beef crumbles.
Season with salt and pepper.  Bring to a boil. Reduce to simmer for 1 hour.
Add Velveeta and blend well.
Add potato pieces and simmer 30 minutes more or until potatoes are tender.
Preseason to taste.
Top with your favorite burger toppings and enjoy.
I found a secret ingredient too.  It has become my new go to seasoning. LOVE this stuff!