While you cook this, leftovers are good either heated or cold or even on a sandwich.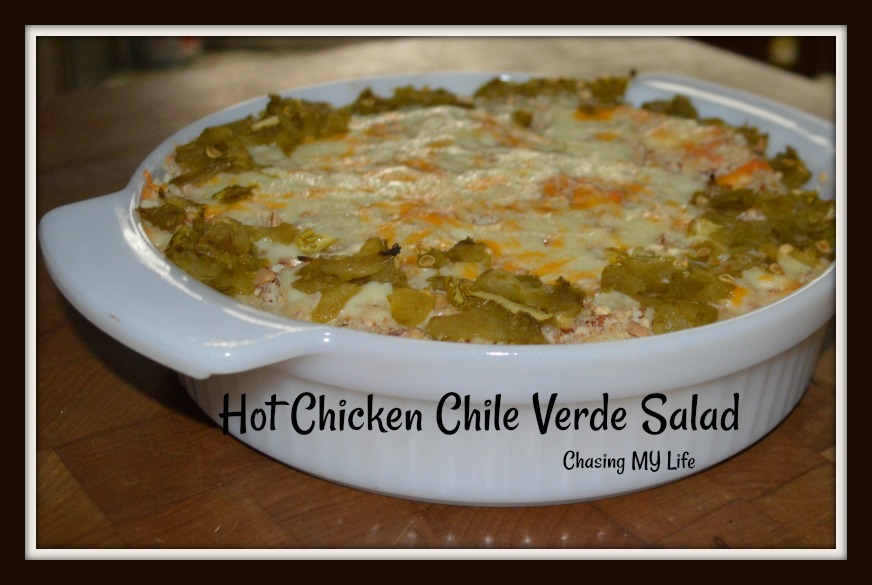 HOT CHICKEN CHILE VERDE SALAD
3 cups cubed cooked chicken OR 1 Costco rotisserie chicken torn into pieces
3 celery ribs, chopped
8 ounce cans sliced water chestnuts, drained and quartered
1 can green enchilada sauce
3/4 cup REGULAR mayonnaise (do NOT use lowfat)*
1 1/2 cups sour cream 1 1/2 cups plain Greek yogurt
1 small shallot, finely chopped
Juice of 1 lemon
1/2 teaspoon each salt and pepper
1 small can chopped green chiles
1/2 cup Panko crumbs
1/2 cup shredded cheddar cheese (I used finely grated SHARP cheddar)
1/2 cup Almond Accents honey roasted sliced almonds, crushed**
In a large bowl combine the mayonnaise, yogurt, enchilada sauce, lemon juice, salt and pepper until well blended.
Add chicken pieces, celery, water chestnuts, almonds and onions until well combined.
Turn into a greased baking dish.
Combine bread crumbs and almonds.
Top with bread crumbs and then cheese.
Arrange green chiles around the edge of the baking dish.
Bake uncovered for 35-45 minutes or until heated through.
NOTES:
*I cut this in half for continuity because the enchilada sauce was much thinner than the original cream of chicken soup
**from the produce section – a salad topper