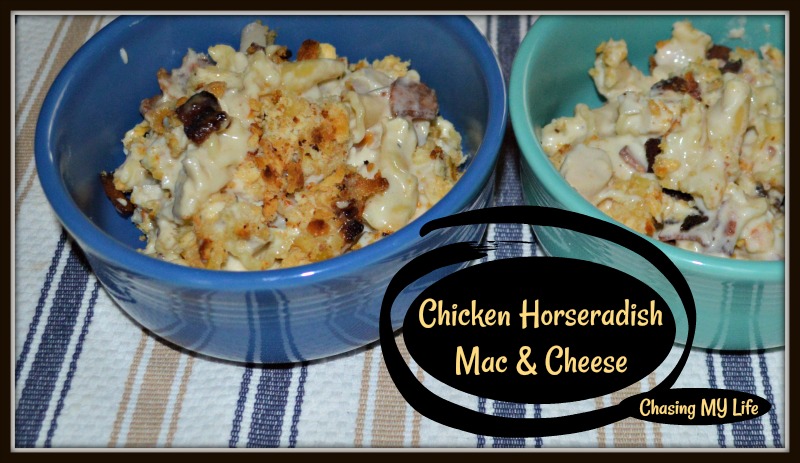 CHICKEN HORSERADISH MAC & CHEESE
8 ounces macaroni or campagnelle noodles, prepared according to package directions
1/2 pound bacon, diced
1 large shallot, diced small + 2 cloves garlic, minced
4 tablespoons unsalted butter, divided 2 1/2 + 1 1/2
3 tablespoons WONDRA flour
2 teaspoons DIJON mustard
1 1/4 cups whole milk
1 cup heavy cream
2 cups small diced rotisserie chicken
1/2 teaspoon sea salt
1 tablespoon creamy horseradish
1/3 cup Boar's Head Horseradish Cheddar cheese, grated
1 cup grated Gruyere Cheese
2 cups EXTRA sharp white cheddar cheese
1/2 cup grated Asiago Parmesan Cheese
2 tablespoons finely chopped Italian Parsley
1/3 cup finely crushed Keebler Club crackers
1 tablespoon butter, melted
2 tablespoons powdered Parmesan Cheese
Preheat oven to 450°.
Lightly butter a 9×9 baking dish.
In a large skillet brown bacon until crisp and crumbly.
Remove bacon with slotted spoon and drain on paper towels.
Add shallots and garlic to bacon drippings, sauteing until soft.
Add the 2 1/2 tablespoons of butter.
When butter is melted whisk in the flour making a roux.
Whisk in the mustard.
Whisk in creamy horseradish.
Gradually and alternately add the milk and cream, whisking constantly.
Add the salt, blending well.
Bring to a SLOW rolling boil, reduce heat and simmer for 15 minutes, stirring constantly.
Strain into a large mixing bowl and discard any solids.
Add ALL cheeses quickly, stirring constantly until melted and a smooth consistency.
Add in the cooked noodles, chicken pieces and 3/4 of bacon pieces stirring to coat.
Fold the noodle mixture into the baking dish.
Blend together 1 1/2 tablespoons melted butter, powdered Parmesan Cheese and crackers.
Sprinkle on top of noodles.
Bake 20-25 minutes until bubbling and golden brown. During last 5 minutes top with remaining bacon pieces.
Remove from oven, cover with foil and rest 10 minutes before serving.
Save
Save