Now there is much debate over Gran's cranberry salad recipe, but one thing was for sure, she'd have to make a double batch, one for my mom and aunt and another for everyone else.  Now while I usually helped prepare the above recipe, I hated it!! One year she even decided the grapes needed to be peeled – need I say more? I much prefer the recipe below that is a FUN version of hers.  Shhhh, don't tell anyone, but I have been known to eat a whole batch by myself.  In my defense it was while I wasn't feeling good and had a sore throat.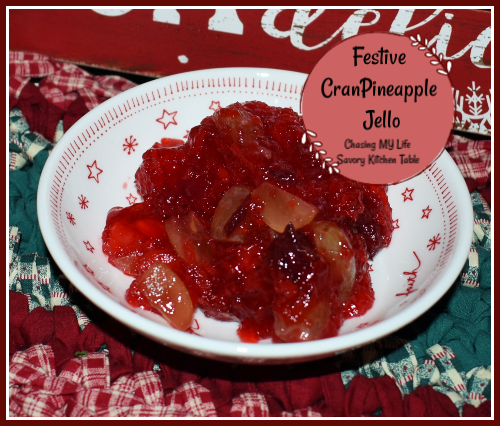 GRAN'S HOLIDAY SALAD aka FESTIVE CRAN PINEAPPLE JELLO
1 package (3 ounces) cherry Jell-o
1 package (3 ounces) black cherry Jell-o
1 1/2 cups boiling water
1 can (14 ounces) whole berry cranberry sauce
1 can (20 ounces) crushed pineapple, undrained
2 cups seedless green grapes, quartered
chopped pecans (optional)
Dissolve the jell-o in the boiling water in a large bowl.

Fold in the pineapple and cranberry sauce.

Refrigerate for 30 minutes.

Fold in grapes and pecans if desired.

Refrigerate until firm.