Chicken Francese is an Italian recipe that was originally made with veal and while delicious, I don't cook with veal by choice and substitute chicken in any veal recipe. I recently read that because of the cost and availability or lack there of, immigrants substituted chicken for veal when they came to the U.S., specifically to Rochester New York. So, I call my version Rochester Chicken ala Italy.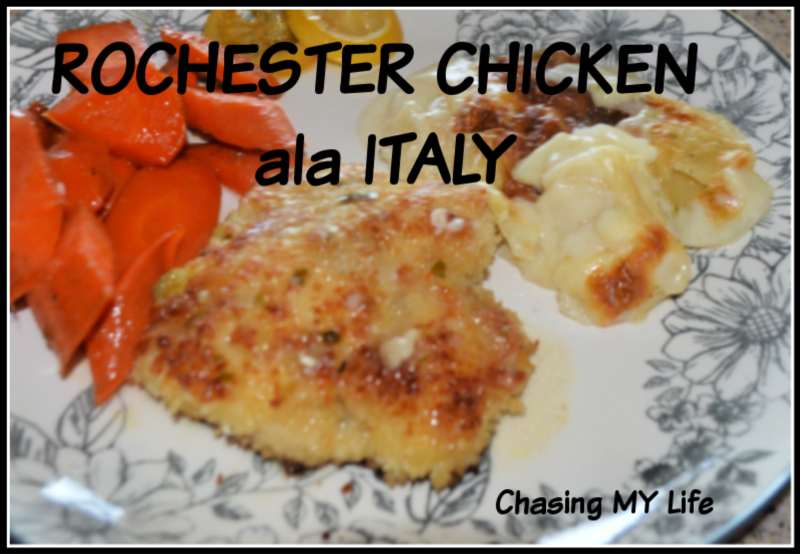 ROCHESTER CHICKEN ala ITALY
1/2 cup all purpose flour
FRESH ground sea salt and black pepper, to taste
2 LARGE eggs
1/2 cup Panko crumbs
1/4 cup FRESH chopped parsley
1/2 teaspoon sweet paprika
4 boneless, skinless chicken breasts
3 tablespoons UNSALTED butter
2/3 cup chicken broth
Juice of 1 LARGE lemon
1 lemon. sliced into wheels
Prepared egg noodles
Set up a dredging station with the flour, salt and pepper in dish one. In dish two beat the eggs with 1 tablespoon of water and in the third dish combine the Panko crumbs with the paprika and parsley.
Pound chicken breasts to 1/3 inch thickness between 2 sheets of plastic wrap.
Dip each chicken piece into the flour and press to coat well, followed by the egg dip and then the Panko crumbs. RESERVE 2 tablespoons of the  flour mixture.
Set aside on a platter. When you have them all coated, chill the platter 30-60 minutes.
In a large skillet (preferably cast iron) heat 2 tablespoons of the butter over medium high heat until sizzling.
Saute each breast about 4 minutes per side until golden.
Transfer to a warm platter.
Add the remaining butter to the pan.
Add 2 tablespoons of the reserved flour mixture and whisk until combined and golden.
Add the broth and lemon juice, stirring constantly until reduced and thickened into sauce.
Adjust seasoning to desired flavor.
Return chicken to pan and turn to coat.
Serve over prepared egg noodles.
Top with sauce and garnish with lemon wheels and parsley.