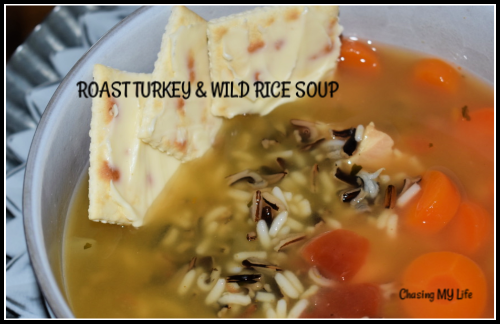 Winter seemed never ending this year!  So what did we do? We made MORE soup!  While we were on a trip to the coast I had the most amazing soup at McMeniman's Sand Trap at their Gearhart Hotel.  So, I came home and set to recreating it.  The re-creation is so close I feel like I'm back in front of the fire enjoying their soup and a cocktail!
ROAST TURKEY & WILD RICE SOUP
1 tablespoon butter
1 small Viadalia onion, diced
2 stalks celery, diced
3 large carrots, sliced into 1/4 inch slices
3 cloves garlic, minced
1 teaspoon FRESH ground black pepper
1 teaspoon sea salt
1 tablespoon white vinegar
1 teaspoon dried thyme
1 teaspoon dried parsley
5 cups chicken broth
1 cup wild rice
2-3 cups shredded turkey or rotisserie chicken pieces
Melt butter in dutch oven over medium high heat.
Add onions, carrots, celery, salt and pepper. Saute' 5 minutes.
Add garlic. Saute' another 5 minutes.
Add thyme, parsley, vinegar, broth and rice.
Bring to a SLOW boil. Reduce heat and simmer 30 minutes.
Add turkey and simmer uncovered 30 minutes more until rice is tender.
Adjust seasonings to taste.