While this recipe is an entree it turns into a salad for us. We usually go heavy on the micro greens and then cut up all the parts to toss with the sauce and YUMMY salad just magically appears before it quickly disappears!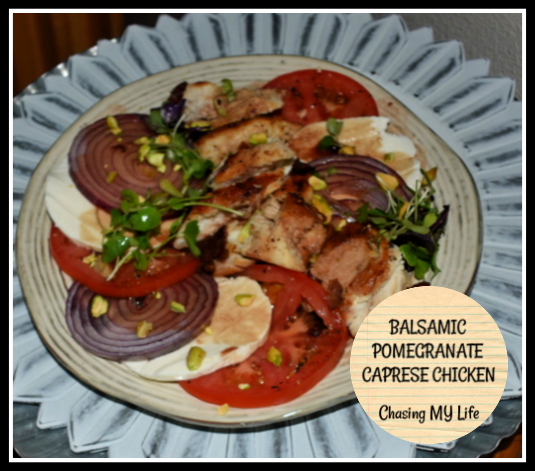 BALSAMIC POMEGRANATE CAPRESE CHICKEN 
1 1/2 cups pomegranate juice
1/2 cup STRONG QUALITY balsamic vinegar
2 boneless, skin-on chicken breasts** (SEE NOTE)
FRESH ground Himalayan sea salt and black pepper
2 tablespoons avocado oil
2 heirloom tomatoes, sliced 1/4-inch-thick
1 small red onion, thinly sliced
fresh buffalo mozzarella, sliced 1/4- inch-thick
1/4 cup crushed pistachios
Fresh BABY basil leaves or micro greens, for garnish
Bring pomegranate juice and vinegar to a SLOW simmer in a small saucepan over low heat, then let cook until very syrupy, thick and reduced to about 1/2 cup, about 45 minutes. Season to taste and set aside to cool.
Preheat oven to 300°.
Generously Sprinkle chicken breasts liberally with FRESH ground Himalayan sea salt and pepper on both sides.
Add oil to a medium ovenproof skillet and heat over medium-high heat.
Place chicken in the skillet skin-side down and cook until the skin is nice and golden brown, 2 to 3 minutes.
Flip chicken and cook for another 2 minutes.
Transfer skillet to the oven and roast until cooked through and juices run clear, 10 to 12 minutes.
Let rest for 5 minutes.
Slice the cooked chicken breast 1/4-inch-thick.
Layer tomatoes, onions, chicken and mozzarella on a platter.
Drizzle with the pomegranate reduction.
Sprinkle with crushed pistachios.
Scatter basil leaves or micro greens on top.
NOTE:  Skinless, boneless breasts cans be substituted, but the browned crispy skin is a MUST for us.  If you do substitute, be sure to also adjust the cooking time. You can also start with a thick slab of bacon under the chicken to create the illusion of crispy skin.