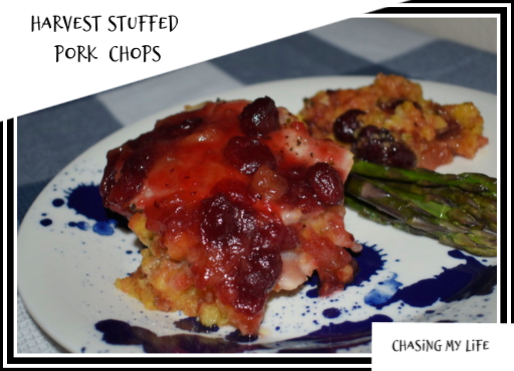 HARVEST PORK CHOPS
8 boneless pork loin chops, 1 inch thick
2 cups small chopped celery
1 small red onion, chopped small
1/4 cup chopped Italian Parsley
2 cups crispy bread cubes for stuffing
2 cups chicken broth
FRESH ground sea salt and black pepper
1/2 cup pineapple jam
1 cup whole berry cranberry sauce
2 tablespoons butter, melted
2 tablespoons avocado oil
Preheat oven to 350°.
Spray a baking dish with non-stick cooking spray.
Carefully cut a pocket into each pork chop.
Combine the celery, onion, parsley, bread cubes, chicken broth, melted butter and cranberries until well blended.
Add a large scoop of stuffing to each pork chop and close with a toothpick.
Spread remaining stuffing mix into baking dish.
Generously season each chop with FRESH ground sea salt and black pepper.
Heat oil over medium high heat.
Sear each pork chop on each side and place on top of stuffing in baking dish.
Cover with foil.
Bake 30 minutes.
Heat jam and remaining cranberry sauce for 30 seconds in microwave.
Uncover chops and spread sauce mixture over top.
Return to oven and and bake another 10 minutes until chops reach 160°.
NOTE: Dried cranberries can be substituted, but you'll need to increase the chicken broth by 1/4 cup for additional moisture.