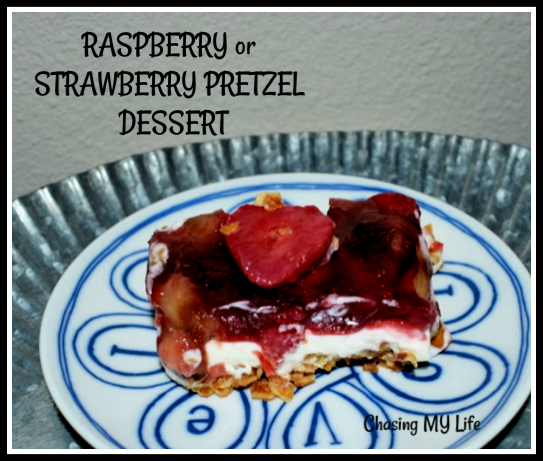 RASPBERRY or STRAWBERRY PRETZEL DESSERT
CRUST
2 cups crushed pretzels
3/4 cup butter, melted
3 tablespoons sugar
Preheat oven to 350.
Combine the pretzels, butter and sugar in a mixing bowl.
Press into a 13×9 baking dish.
Bake 10 minutes.
Cool on wire rack.
FILLING
2 cups heavy cream
1 teaspoon PURE vanilla.
8 ounces cream cheese, softened
1 cup sugar
Beat the heavy cream until you have soft peaks.
Add vanilla, cream cheese and sugar beating until smooth.
Spread over the pretzel crust.
Refrigerate 1 hour until chilled.
TOPPING
6 ounces strawberry Jell-O
2 cups boiling water
32 ounces frozen raspberries or sliced strawberries, thawed
Dissolve gelatin in the hot water in a large bowl.
Stir in fruit along with water syrup has accumulated during their thawing.
Chill until partially set.
Spoon over filling and gently spread even.
Refrigerate and chill 4-6 hours.
Cut into squares.