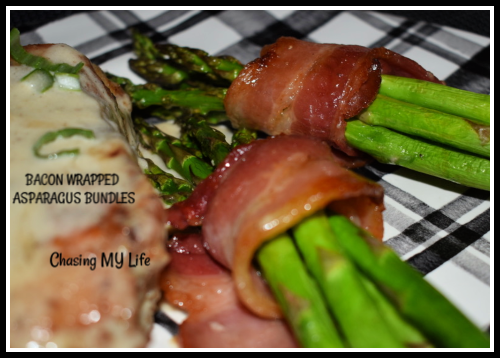 BACON WRAPPED ASPARAGUS BUNDLES serves 6
6 slices bacon
1 pound asparagus, trimmed
¼ cup PACKED brown sugar
¼ cup butter
2 teaspoons Bragg's liquid aminos
FRESH ground black pepper
½ teaspoon sea salt
Preheat oven to 400°.

Arrange bacon on baking sheet and cook 5-6 minutes JUST until fat starts to render, but NOT browned.

Cool bacon on paper toweling.

Wipe down baking sheet.

Arrange asparagus into 6 bundles.

Wrap a slice of bacon around each bundle securing with a toothpick.*see notes

Arrange on baking sheet.

In a small saucepan combine the butter, liquid aminos, brown sugar, garlic salt and pepper. Bring

to a boil over high heat.

Pour over asparagus.

Roast 20-25 minutes until asparagus is tender and bacon is cooked through.

Heat broiler.

Place baking sheet under broiler for 2 minutes JUST until bacon crisps up.
NOTE: If your bacon pieces are long enough you can tuck them in and place the tucked portion on the bottom to avoid the need of toothpicks all together.