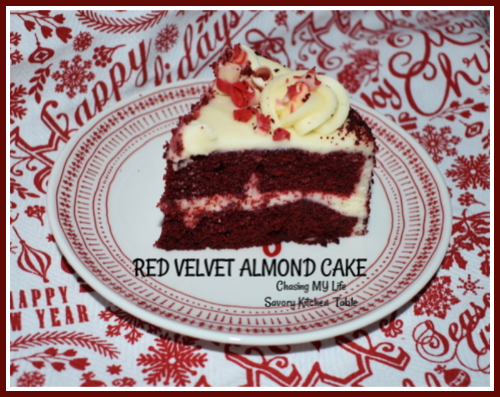 RED VELVET CAKE/CUPCAKES with ALMOND CREAM CHEESE FROSTING
CAKES
2 cups cake flour
1 cup plus 3 tablespoons almond flour
1 1/4 teaspoons baking soda
1 1/4 teaspoons kosher salt
1/4 cup unsweetened cocoa powder
1 cup avocado oil
1 1/4 cups buttermilk
scant 2 cups sugar
4 eggs, room temperature
1 fluid ounce red food coloring
1/2 cup plus 2 tablespoons unsweetened applesauce
1 1/4 teaspoons apple cider vinegar
1 1/4 teaspoons vanilla extract
Preheat the oven to 350.
Line 2-9 inch rounds with parchment paper or 2 muffin pans with 24 cupcake liners.
Sift together the flours, baking soda, salt, and cocoa powder in a medium bowl.
In the bowl of a mixer blend the avocado oil, buttermilk, sugar, eggs, food coloring, applesauce, vinegar, and vanilla on medium speed until incorporated, about 2 minutes.
Turn the mixer to medium-low speed, and add the dry ingredients a little bit at a time, making sure to scrape down the sides of the bowl if necessary. Mix until JUST combined.
Divide the batter evenly between the cake pans or fill the cupcake liners 3/4 of the way full, and bake until a toothpick inserted in the center comes out clean, 20 minutes.
Cool the cupcakes completely.
Generously frost the top of each cupcake with the Almond Cream Cheese Frosting.
ALMOND CREAM CHEESE FROSTING
12 tablespoons butter, at room temperature
3 – 8  ounce cream cheese packages, at room temperature
4 1/2 cups powdered sugar, sifted
2 1/2 teaspoons PURE vanilla extract
2 teaspoons almond extract
In the bowl of a stand mixer with a whisk attachment, whip the butter and cream cheese on high speed until light and fluffy, about 3 minutes.
Turn the mixer on medium-low, and slowly add the powdered sugar, vanilla, and almond extract. Once the ingredients are all incorporated, turn the mixer to high, and beat for 1 additional minute.