This is a WONDERFUL one pan, winter meal for any weeknight! It's easy to assemble and makes great leftovers!  OR it can be completely made from scratch – your choice!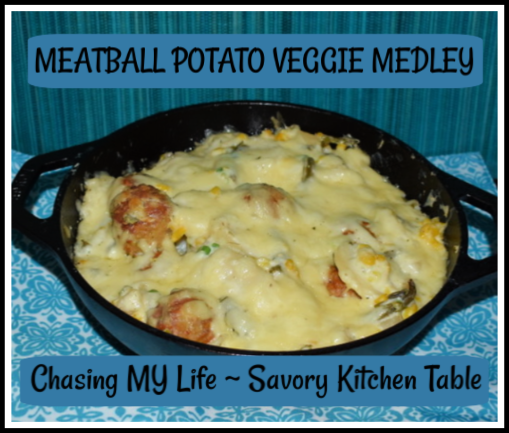 MEATBALL POTATO VEGGIE MEDLEY
1 can Campbell's Cream of Potato Soup
1/2 cup sour cream
1 small bunch green onions, sliced thin
FRESH ground sea salt and black pepper, to taste
1 teaspoon lemon zest
1 can sliced potatoes, drained WELL
1 can whole green beans, drained WELL
1 1/2 cups frozen corn, thawed
12 fully cooked meatballs, thawed, if frozen
3/4 cup shredded Gruyere or baby Swiss cheese
Preheat oven to 375°.
Coat baking dish with non-stick cooking spray.
Whisk together the soup, sour cream, salt and pepper.
Fold in green onions and lemon zest.
Gently fold in potatoes, green beans and corn.
Spread mixture into baking dish.
Tuck meatballs into mixture, gently pressing into the sauce.
Sprinkle with cheese.
Bake 35-40 minutes until top is golden and mixture is bubbling.