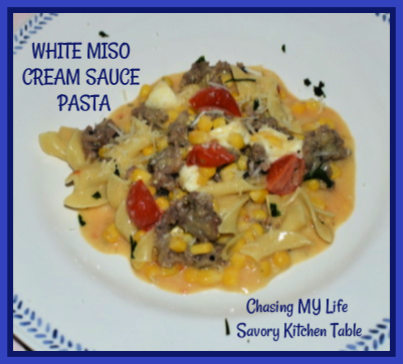 PASTA with MISO CREAM SAUCE
8 ounces uncooked pasta (see note), prepared per package directions
1 1/2 cups WHOLE milk
1/4 cup WONDRA flour
4 tablespoons white miso
1 1/2 cup chicken stock
FRESH ground black pepper, to taste
1 tablespoon avocado oil
1 pound Italian sausage, cooked and crumbled small
1 tablespoon butter
2 cups heirloom grape tomatoes, halved
1 cup frozen corn, thawed
1 cup marinated artichokes, drained and chopped
2 teaspoon chopped thyme
4 cloves garlic minced
1 1/2 cups baby spinach leaves, optional
18-20 mini mozzarella balls, halved or quartered
Torn basil leaves for garnish
Place 1/2 cup of milk in deep bowl.
Whisk in flour and miso until smooth.
Add remaining milk and stock to saucepan. Bring to a SLOW boil over medium-high heat.
Whisk in flour mixture and reduce heat. Simmer 4-5 minutes until slightly thick.
Add pepper.
Heat oil and butter in skillet over high heat.
Add tomatoes, stirring and cooking 2 minutes until beginning to char and pop.
Add thyme and garlic, cooking 1 minute more.
Add spinach, cooking 2 minutes more until wilted.
Remove from heat.
Add pasta sauce and half the cheese to the skillet, tossing to combine.
Serve in pasta bowls.
Top with remaining cheese pieces and torn basil.
NOTE: Any pasta works with this recipe!