Like Lasagna, but not all the hassle? Makes Broken Lasagna AKA Baked Ziti or ANY pasta for that matter – it's all about the flavors 😀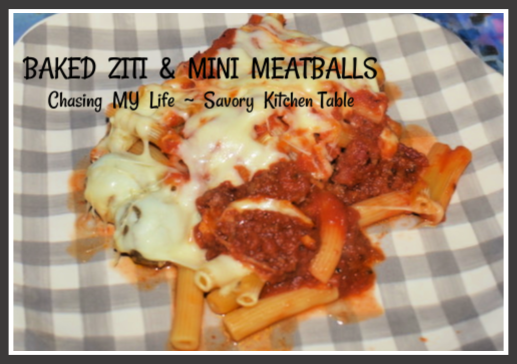 BAKED ZITI Recipe Prep time: 10 minutes Cook time: 55 minutes Yield: Serves at least 8
1 pound ziti or pasta of your choice
Avocado oil
1/2 pound ground Italian sausage
1/2 pound ground beef or pork
1 large onion, chopped
3 garlic cloves, chopped
1 tablespoon FRESH basil, minced
1 tablespoon Garden Gourmet Italian seasoning
1/2 teaspoon red pepper flakes
32 ounces marinara (jar or your own homemade)
1/2 pound of grated Mozzarella cheese
1 heaping cup of ricotta cheese
1 cup FRESH grated Parmesan cheese
Heat a large pot of water to a hard boil.
Add a tablespoon of salt.
Add the pasta and cook at a rolling boil, uncovered, until the pasta is al dente—edible but still a little firm to the bite.
Drain the pasta well.
Toss with a little avocado oil so it doesn't stick together.
Set aside.
Heat a tablespoon of avocado oil in a large sauté pan on medium-high heat.
When the oil is hot, add the sausage and ground beef or ground pork, breaking up any large chunks as it cooks. Brown well.
Season with FRESH ground salt and pepper.
Drain off any excessive grease, but leave a little for flavor.
Add onions and garlic, sautéing until the onions are translucent and beginning to brown, about 4-5 minutes.
Add the basil, Italian seasoning and red pepper flakes, stirring to combine and coat well.
Add the marinara sauce and stir well.
Bring to a simmer.
Preheat the oven to 350°.
Spread a thin layer of sauce in the bottom of a 9×13-inch casserole pan.
Add dollops of half the ricotta cheese.
Ladle a spoonful of sauce into the pasta, stir it well and then add the pasta into the casserole.
Pour the rest of the sauce over the pasta.
Add dollops of the remaining ricotta cheese over top.
Sprinkle the mozzarella and the Parmesan cheese on top.
Bake for 20 minutes until the top is lightly browned and the cheese melted.
NOTES:
I sometimes add small mini meatballs for fun 😀
You can substitute dried herbs if that is all you have on hand. Use 1 teaspoon dried oregano, 1 teaspoon dried basil and 1/2 teaspoon dried thyme to replace the Italian seasoning.