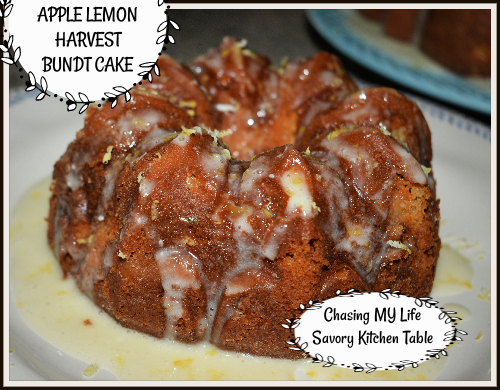 I combined my 3 favorite recipes; Shenandoah Apple Cake, Meyer Lemon Cake and Apple Cream Cheese Swirl Cake into a single recipe to make my Harvest bundt cake. and love it so much that this is now my favorite recipe!  This recipe makes two 9-inch bundt cakes or one 10-inch plus 2 small decorative bundt cakes or 6-8 small decorative bundt cakes.
The secret is the swirl of orange cream cheese that winds its way through the sweet tartness of the Meyer lemons and the crisp sweetness of the Honey Crisp apples to combine into the quintessential Thanksgiving dessert.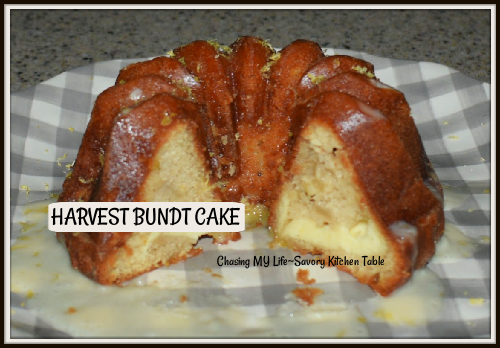 APPLE LEMON HARVEST BUNDT CAKE
SWIRL
8 ounces cream cheese, room temperature
1/2 cup powdered sugar
2 tablespoons WONDRA flour
1 LARGE egg
1 tablespoon FRESH orange zest
On medium speed beat cream cheese until creamy in a medium mixing bowl.

Reduce speed to low and add powdered sugar, flour, egg and orange zest, beating until smooth.

Cover and chill while preparing batter.
BATTER
2 3/4 cups sugar
2 tablespoons Meyer lemon zest
1 tablespoon orange zest
In a mixing bowl combine sugar and zest with a fork.

Set aside 10-20 minutes so flavor infuses sugar.
3 cups unbleached flour
1 teaspoon baking soda
1/2 teaspoon baking powder
1 teaspoon sea salt
1 teaspoon QUALITY cinnamon
1/2 teaspoon ground ginger
1/2 teaspoon FRESH ground nutmeg
1/2 cup avocado oil
1/2 cup (1 stick) unsalted butter
1 teaspoon PURE vanilla
6 LARGE eggs at room temperature
1/4 cup apple cider
1/4 cup Meyer lemon juice
1 cup sour cream
2 LARGE Honey Crisp or Granny Smith apples, peeled, cored and diced
Preheat oven to 350°.

Prepare bundt cake pan(s) with non-stick cooking spray and a flour dusting.

In a large bowl whisk together the flour, baking soda, baking powder, salt, cinnamon, ginger and nutmeg. Set aside.

In the bowl of your stand mixer cream the avocado oil and butter together.

Add the infused sugar, beating until well incorporated, light and fluffy.

Add eggs, one at a time, beating well after each addition.

Add apple cider, vanilla and lemon juice, blending well.

Alternately add flour mixture and sour cream, starting and ending with flour mixture

JUST until blended after each addition.

Fold in apples.

Spread half of mixture into prepared pan(s).

Remove swirl mixture from the refrigerator and spoon evenly on top of batter, avoiding the edges.

Top with remaining batter.

Using a knife, gently pull the blade back and forth through the cake to swirl the cream cheese mixture into the batter. You don't want to mix, just gently swirl.

Bake 60-75 minutes for a LARGE bundt pan until tester comes out clean. For the smaller decorative pans I start checking them around 35 minutes.

Let cool 15-20 minutes.

Invert and transfer to a wire rack to COMPLETELY cool before the syrup and glaze.
SYRUP
1/4 cup FRESH Meyer lemon juice
1/2 cup sugar
1/4 cup water
Combine ingredients in a small saucepan over low heat, stirring until sugar is COMPLETELY dissolved.
Brush over COOLED cake.
Allow cake to COMPLETELY cool again before glazing.
GLAZE
2 cups powdered sugar
1/4cup WHOLE milk
3tablespoons QUALITY honey
2 tablespoons FRESH Meyer lemon juice
2 tablespoons Meyer lemon zest
Whisk all together in small bowl until smooth.
Drizzle over COMPLETELY cooled cake.
Garnish with additional zest.
NOTE:
THE BEST ADVICE, I can offer you on this recipe is prep work! Do ALL of the zesting, juicing and chopping before you begin a single step!!!

Then infuse the sugar as directed as your second step before you begin the swirl so it allows more time for the sugar to be flavor infused.