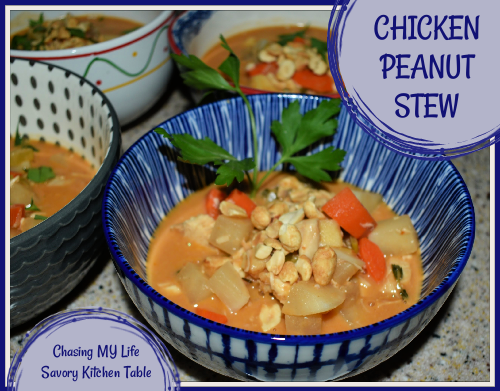 CHICKEN & PEANUT STEW
2 tablespoons butter
3 cups chopped rotisserie chicken
FRESH ground sea salt and black pepper
1 tablespoon chopped FRESH thyme
1 Vidalia onion, chopped
2 large carrots, peeled and chopped
2 stalks celery, halved and chopped
2 turnips, peeled and chopped (see notes)
4 cloves garlic, minced
2 tablespoons grated ginger
3 tablespoons tomato paste
1/2 cup JIF creamy peanut butter
3 cups chicken broth
1/2 teaspoon crushed red pepper
Juice of 1 LARGE lemon
Chopped peanuts for garnish
Chopped Italian parsley, for garnish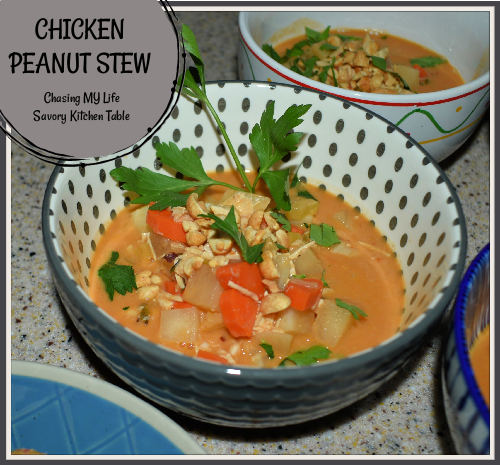 Melt butter in large dutch oven.

Add parsnips, sauteing for 2-3 minutes.

Add carrots, turnips and onions, sauteing 3-5 minutes more.

Add onions, thyme leaves and FRESH ground sea salt and black pepper.

Stir in chicken broth, tomato paste, ginger, garlic and crushed red pepper, simmering 30-40 minutes.

Stir in peanut butter and lemon juice, simmering another 15-20 minutes.

Adjust seasoning.

Garnish with chopped Italian parsley and chopped peanuts.
NOTES:  Butternut squash is a great substitute fr a different flavor profile.