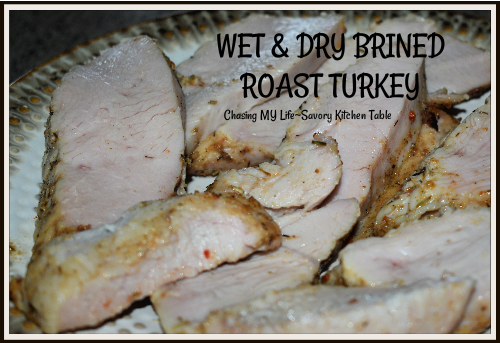 Preparing turkey breasts instead of the whole turkey is a sure fire way to make sure everyone has the white meat they desire. It is also EASIER – no carcass or bones to mess with. AND it looks more elegant when served. No wait time while someone has to carve it is a real plus too! PLUS you still get enough drippings to make a GREAT gravy with.
I use one 3 pound breast per two people. This gives you enough for the BIG day as well as leftovers for sandwiches. I also use both a WET BRINE and a DRY BRINE.
For Thanksgiving I take the turkey out of the freezer on Monday and move it to the refrigerator. It will thaw in less than 24 hours generally. Then on Tuesday I submerge it into the wet brine. On Thursday I drain off the wet brine an hour before I want to roast it and bring it to room temperature.
WET BRINE
3 cups WHOLE milk
1/2 cup apple cider vinegar
1/4 cup sea salt
Whisk together until salt is dissolved.

Place turkey breast in large ziplock bag.

Place bag in baking dish or large bowl.

Pour brine in bag and seal tight.

Refrigerate 24-48 hours.
DRY BRINE
1 teaspoon onion powder
1 teaspoon garlic powder
1 teaspoon sugar
1/2 teaspoon dried tarragon
1/2 teaspoon red pepper flakes
1/2 teaspoon orange peel
Drain wet brine for turkey breast and pat dry.

Combine ingredients in mortar and finely grind.

One hour before you plan to start roasting, rub turkey breast on both sides, lightly cover with cheesecloth and allow to come to room temperature.
3 pound half breast
2 carrots, washed and sliced (optional)
2 stalks celery, washed and sliced (optional)
1 SMALL onion, diced (optional)
2 tablespoons unsalted butter
1 tablespoon COARSE Kosher salt
FRESH ground black pepper
Preheat oven to 450°. This will start the browning process.

Adjust oven shelf to low position.

Add any veggies you might be using to the bottom of the roasting pan. If using veggies I add a couple tablespoons of butter to the bottom so they don't burn. Also if using veggies you can place the breast directly on top eliminating the roasting rack and another thing to wash!

Top with roasting rack.

Transfer DRAINED brined breast to a roasting rack.

Brush turkey with melted butter. Loosen the skin and brush a little butter under there also. Make sure skin is covering as much meat as possible. This helps keep your turkey moist.

Season with Kosher salt and FRESH ground black pepper.

Move pan to oven.

Reduce heat to 350° when you place turkey breast in the oven. This will slow down the cooking to keep the meat juicy. With no bones the turkey breast will cook much more

quickly.

Roast 1 hour or until internal temperature reaches 165°. Check every 15 minutes – NOT to baste, but to make sure your skin is no browning too fast. If it is, lightly cover with foil for the remainder of the roasting time.

Remove turkey to carving board, cover with foil and rest 15-20 minutes while you prepare the gravy from the drippings.

Prepare gravy.

Carve turkey.
NOTE: Leftovers can be stored in an airtight container 5 days or frozen up to 2 months. LOL like any leftovers will last that long! I see serious turkey sandwiches ALL weekend long!